Photographer: Tim Rue/Bloomberg
Saudi Arabia Oil Tanker Tracking Shows Exports Slide in February
By and
Decline in shipments supports assertion about supply curbs

Shipments about 1 million barrels a day below end of 2016
Saudi Arabia's shipments of crude oil fell last month, indicating OPEC's biggest producer is continuing to cut supplies by more than it pledged.
The world's largest crude exporter shipped 7.04 million barrels a day in February, a drop of 126,000 barrels a day from January, vessel-tracking data compiled by Bloomberg show. Measured against the country's own figures, outflows are down by about 1 million barrels a day since December.
Saudi Arabia is at the forefront of an agreement by the Organization of Petroleum Exporting Countries to curb output for at least six months to reduce a worldwide surplus that depressed oil prices since mid-2014. Production figures from January showed that OPEC members were at about 90 percent in adhering to the deal. However, 11 non-OPEC nations that had joined the effort lagged, with a compliance rate of about 50 percent.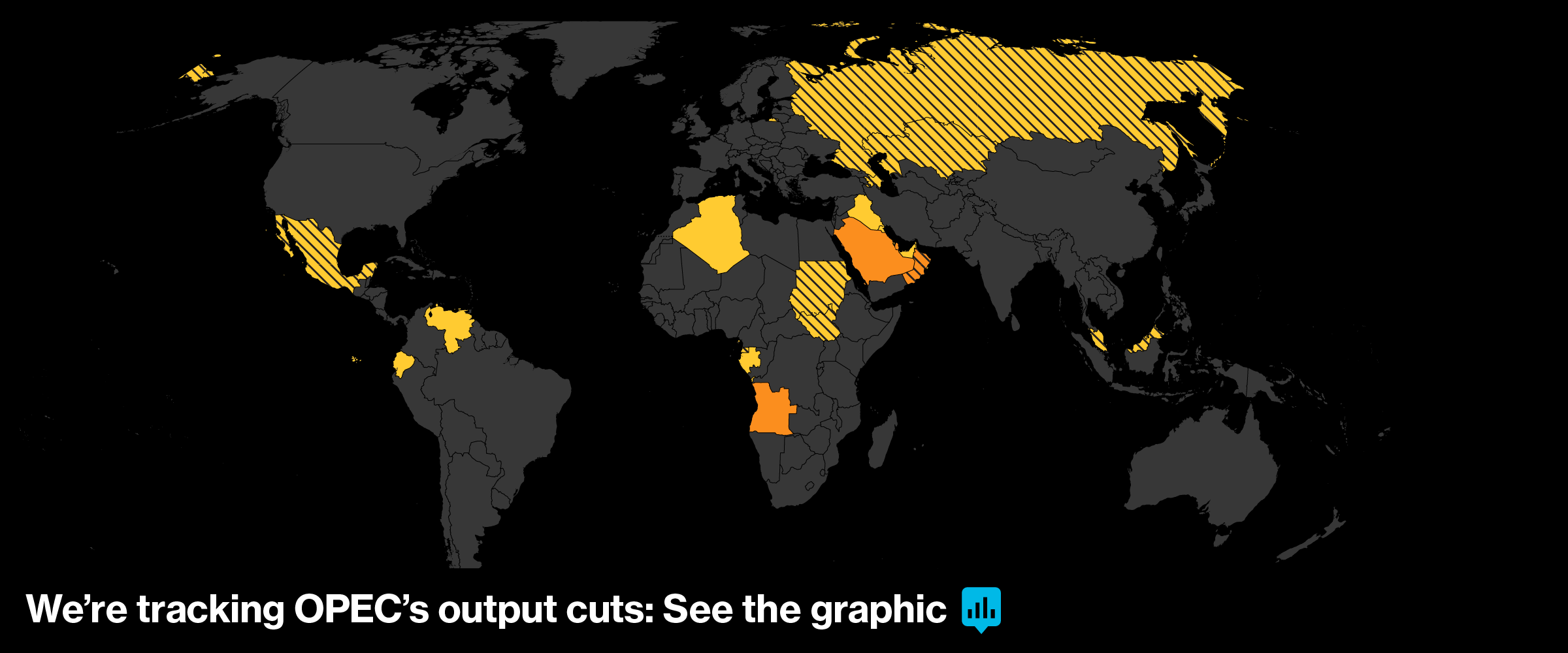 Higher prices caused by lower output may increase pressure on the group to maintain discipline. Saudi Arabia agreed to cut output by 486,000 barrels a day below October levels, the baseline month for measuring supply curbs, a target that it exceeded in January.
Infographic on how OPEC, non-OPEC curbs have played out
While Saudi Arabia has the ability to store crude -- meaning that its exports aren't perfectly correlated with production -- a month-on-month decline in exports would support the country's assertion it's cutting back. Exports fell from about 7.16 million barrels a day in January, according to Bloomberg calculations based on industry standard cargo sizes.
Japan, China, South Korea, the U.S. and India were the biggest destinations, accounting for almost 70 percent of all cargoes. Vessels were tracked as they loaded and departed from the Saudi Arabian ports of Ras Tanura, Ju'aymah in the Persian Gulf and Yanbu on the Red Sea.
Saudi Arabia exported about 7.64 million barrels a day in October, according to figures from the Joint Organisations Data Initiative. Riyadh-based JODI collates data including production and exports directly from countries. Shipments exceeded 8 million barrels a day in both November and December. The deal to cut supply took effect at the beginning of the year.
Before it's here, it's on the Bloomberg Terminal.
LEARN MORE