markets
S.F. Chairman Shares New Fortune Through App That Can Buy Stocks
Bloomberg News
Employees said to open stock trading accounts after bonuses

Shares have rallied since company completed backdoor listing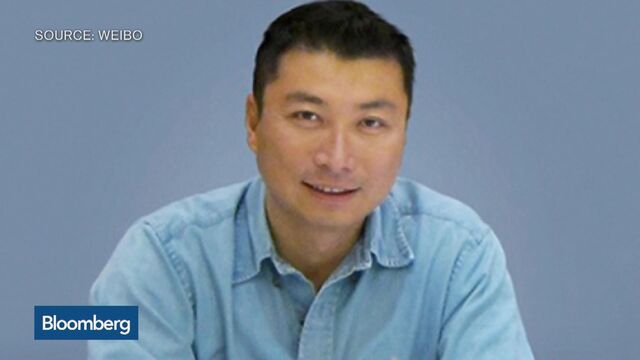 Wang Wei, minted China's third-richest man by the listing of the nation's biggest courier service, personally paid bonuses to employees via a payment app that also lets them buy securities, potentially making workers both beneficiaries and boosters of the company's surging shares.
Wang distributed the bonuses via the in-house developed app on Friday, the same day S.F. Holding Co. celebrated the completion of its listing in its home city of Shenzhen. Shares have since jumped by the exchange's daily 10 percent limit four days in a row.
About 20,000 stock trading accounts have been opened by S.F. Holding employees since Friday and used to buy the company's shares, according to people familiar with the matter, asking not to be identified as they aren't authorized to discuss the matter publicly. An S.F. Holding spokesperson declined to comment on the account openings. The company has about 120,000 employees.
While it's possible some staff may have bought S.F. Holding stock with the bonus, they weren't told to do so, the spokesperson said. The app was introduced in 2014 and Friday was the first time the company used it to distribute a bonus. It'd be "only natural" for some to invest in their employer, the spokesperson added, declining to give a total value for bonuses paid.
Shares of S.F. Holding have surged about 60 percent in the past week, pushing Wang's wealth to $26.5 billion and ranking him ahead of Tencent Holdings Ltd. founder Pony Ma, according to the Bloomberg Billionaires Index. The company, which operates courier service S.F. Express, listed via a so-called backdoor listing in which assets were injected into publicly traded Maanshan Dingtai Rare Earth & New Material Co. in exchange for stock. Its market valuation Wednesday reached as high as $44.7 billion.
Read more: China Delivery Firm Founder Sees Worth Rise $2 Billion a Day
The rally has put a spotlight on the small amount of S.F. Holding stock currently available to be traded, which data compiled by Bloomberg puts at less than 3 percent of outstanding shares.
Typically in a backdoor listing, new shares issued by the listed company, also referred to as the shell, are subject to a lockup period, thus limiting how many shares can be traded. S.F. Holding has a low level of trading shares, which in turn makes it more susceptible to price swings, said Alex Li, executive director of CVCapital, a boutique investment bank in China.
"S.F. had such a huge valuation, but it put itself into such a small shell," Li said in a phone interview on Tuesday. "That means, although its total market cap is huge, only a small amount of funds can move the market cap greatly, because only a limited number of shares can be traded. This is a bit problematic." 
It's unclear how much the gains in S.F. Holding's stock have been driven by employee purchases because of other factors supporting the rally. Last Wednesday, the company reported preliminary 2016 adjusted net profit of 2.64 billion yuan, higher than what some investors may have been anticipating. In its July listing prospectus, S.F. Holding predicted the figure would be higher than 2.19 billion yuan. Shares surged by the daily limit the following day, one day before Chairman Wang paid the bonus.
In addition, Friday also marked the first day after its backdoor listing that S.F. Holding began trading under its own name, instead of as Maanshan Dingtai. Newly listed companies have been favored by China's stock traders. In 2016, initial public offerings gained by a median of 392 percent in the first month after listing.
S.F. Holding is one of four Chinese parcel delivery companies that recently received approval to float shares via backdoor listings, joining YTO Express Group Co., STO Express Co. and Yunda Holding Co. ZTO Express took a different route, listing in the U.S. The terms for S.F. Holding's backdoor listing were announced in May, which resulted in its listed partner Maanshan Dingtai's shares posting a one-month gain of 247 percent.
S.F. Holding is valued at a significant premium to its competitors, as measured by price-to-earnings ratios compiled by Bloomberg. The company trades for 70 times projected earnings for the next 12 months. That compares with a multiple of 40 for YTO, 35 for Yunda, 28 for STO and 13 for ZTO, whose stock has dropped 34% since its U.S. debut in October. The Shanghai Composite is valued at 13 times estimated earnings, while FedEx Corp.'s ratio is 15.
Bonuses for the delivery company's employees were determined by service time and performance, according to S.F. Holding's spokesperson. Working at the company for one year was sufficient to earn a bonus of 1,000 yuan ($146), the spokesperson said, adding that some colleagues had said they'd gotten close to 20,000 yuan.
— With assistance by Dong Lyu, Steven Yang, Jill Mao, and Robert Olsen
Before it's here, it's on the Bloomberg Terminal.
LEARN MORE