Oil-Rich Oklahoma Still at Highest Risk of Man-Made Earthquakes
By
State saw fewer but much larger earthquakes last year

Regulators credit wastewater restrictions with curbing quakes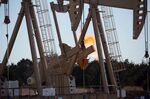 The number of tremors afflicting oil-rich Oklahoma has fallen since regulators began cracking down on the injection of wastewater from oil and natural gas wells, but the state still faces the highest risk of induced earthquakes in the nation.
New seismicity maps released Wednesday by the U.S. Geological Survey show that a swath of Oklahoma and Southern Kansas are likely to experience high-magnitude earthquakes this year. USGS also identified the Raton Basin, straddling Colorado and New Mexico, as a high-hazard area. 
Oklahoma in recent years has seen a steep rise in the number of earthquakes clocking in at magnitude of 2.7 or higher. Geologists, including the USGS, attribute that spike to increased wastewater injection deep underground. The state more than doubled its crude output from 2011 through 2015 and is the sixth producer in the U.S.
State regulators aiming to curb the tremors have imposed new production rules cutting disposal volumes by about 800,000 barrels a day and limiting potential for future disposal by 2 million barrels a day. That effort seems to be paying off, according to the USGS study, which shows that the number of ground-shaking quakes dropped to 2,500 in 2016 from 4,000 the year before.
'Success Story'
"This is a success story," said Mark Petersen, head of the USGS National Seismic Hazard Mapping Project. "The collaboration between different agencies and regulators has reduced the hazard, which is great news. The question is: Can we sustain that?"
The Oklahoma Corporation Commission, which regulates oil and gas wells in the state, also credited its disposal rules for the drop, saying in a statement it "serves to confirm the validity of the work done in Oklahoma to reduce earthquake risk, as well as the need for the effort to continue."
But the number of quakes is only part of the story. While the incidence rate fell, 2016 saw the greatest number of tremors exceeding 4.0-magnitude for any other year. Oklahoma last year also experienced the largest earthquake in the state's history, a 5.8 magnitude quake that struck September 3.
Before it's here, it's on the Bloomberg Terminal.
LEARN MORE