Merkel's NATO Defense Pledge Doubted by German Foreign Minister
By
Spending boost to 2% of GDP is 'unrealistic,' Gabriel says

Trump presses partners in policy speech to pay 'fair share'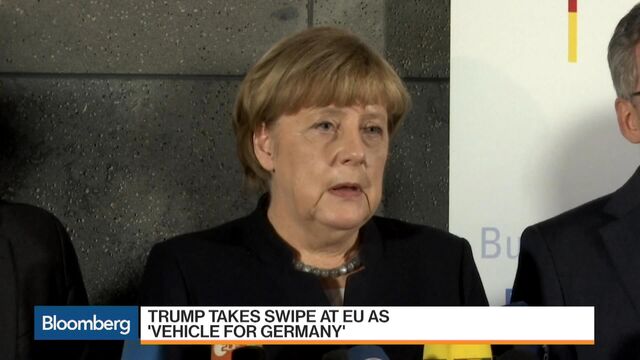 Germany is unlikely to raise defense spending to the level agreed by NATO allies because it's politically difficult and would place an "unrealistic" burden on the country's budget, Foreign Minister Sigmar Gabriel said.
Speaking in the Baltic nation of Estonia, Gabriel sought to rebuff pressure from President Donald Trump's administration for the alliance's European members to bear a greater share of spending. The North Atlantic Treaty Organization agreed in 2014 that all member countries should "aim to move toward" spending 2 percent of economic output on defense by 2024.
"It is totally unrealistic to create the impression in Germany or its partners" that the pledge will be met, Gabriel told reporters in Tallinn on Wednesday. "Whoever makes such a promise will never live it up to it, because it cannot be kept."
German Chancellor Angela Merkel said in February that while "we feel obligated to this goal" and defense spending has risen on her watch, simply pumping money into the military isn't the answer and development aid should also be taken into account. Germany spends about 1.2 percent on defense and wants to bridge the perceived gap in Europe's contribution in part with increased military cooperation on the continent.
Meeting the NATO goal would require an extra 30 billion euros ($32 billion) in extra spending, or a 10 percent increase in Germany's federal budget, Gabriel said.
"We shouldn't give promises that, if you know German domestic politics, are unfulfillable," said Gabriel, whose Social Democratic Party is the junior partner in Merkel's coalition.
Trump Effect
Trump's policies, exemplified by his call in a speech on Tuesday for U.S. partners to "pay their fair share of the cost," are feeding into Germany's election campaign as Merkel seeks a fourth term in the Sept. 24 vote.
Support for her Christian Democrat-led bloc declined 1 percentage point to 33 percent, while the Social Democrats held steady at 31 percent, according to a Forsa poll published Wednesday. Among opposition parties, the anti-NATO Left declined one point to 7 percent and the Greens rose one point to 8 percent. The anti-immigration Alternative for Germany party polled 9 percent and the Free Democrats 7 percent. The Feb. 20-24 poll of 2,500 people has a margin of error of as much as 2.5 percentage points.
— With assistance by Patrick Donahue
Before it's here, it's on the Bloomberg Terminal.
LEARN MORE