Investor Euphoria Has Stocks Set to Race Past Fair Value
By and
BofA raises year-end target for S&P 500 Index to 2,450

Move reflects likelihood of 'typical end-of-bull-market rally'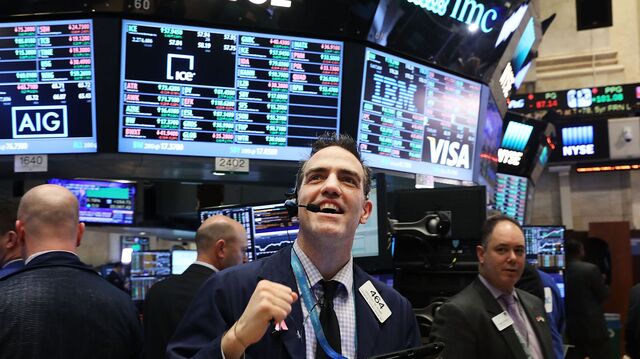 Animal spirits are getting ready to show themselves. 
Analysts at Bank of America raised their target for the S&P 500 Index this year 6.5 percent in anticipation of ongoing investor euphoria, along with a caveat that stocks will "overshoot" their fair value.
"We raise our 2017 year-end target to 2,450 to reflect increasing likelihood we are entering a typical end-of-bull-market rally," the team, led by U.S. equity strategist Savita Subramanian, wrote in a note Wednesday. "The stock market has always seen outsized returns leading up to its eventual crash, and we think this time will be no exception."

What's more, the firm's sell side indicator -- a contrarian measure of bullishness on Wall Street -- is placing the odds of a rally in the S&P 500 at nearly 100 percent, perhaps to the tune of a 22 percent surge over the next year.
"Historically, when our indicator has been this low or lower, total returns over the subsequent 12 months have been positive 94 percent of the time, with median 12-month returns of 22 percent.," Subramanian added.

Bank of America joins a growing chorus of strategists who are hiking their end-year targets for the S&P 500 as an upsurge in consumer confidence and inflows into equity funds add fuel to the bulls. The index has already reached the average year-end target of Wall Street analysts with a 5.6 percent gain since December, according to data compiled by Bloomberg. The average estimate is 2,364, with the highest and lowest predictions sitting at 2,500 and 2,275. Bank of America's prior target was 2,300.
High valuations, elevated corporate leverage, rising inflows into equity funds, a lower equity risk premium and U.S. policy uncertainty all set the stage for potential volatility in the asset class over spring and summer, according to the Bank of America strategists.
"There is a wide and binary range of outcomes, and we think investors are better served thinking about the risk-reward of stocks rather than an absolute target," they wrote.
The view echoes the 2017 forecast Subramanian and her team made in December, when they cautioned that while 2,300 was their target, it was highly likely that the index would either significantly over- or under-shoot that number.
"The case for a traditional, euphoria-driven end-of-bull-market rally could put the S&P 500 as high as 2,700," she said at the time "A bearish scenario, in the event of recessionary returns, could put the S&P as low as 1,600."