Gold Miners Running to Stand Still After Cuts, Franco Says
By
Industry is 'ex-growth,' says Franco-Nevada's David Harquail

Royalty and streaming company may boost non-gold assets to 20%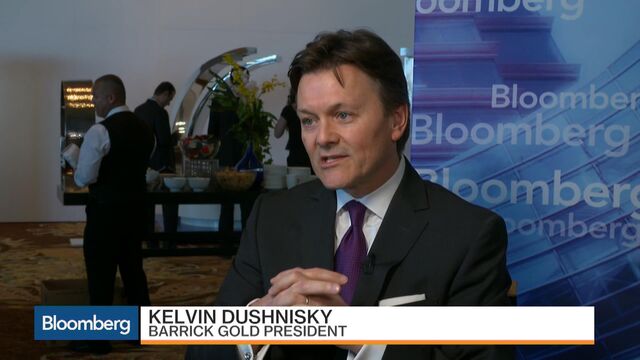 The world's gold miners will be running on the spot for years to come as a surge in gold prices prompts them to secure new production from less profitable projects, according to the largest mine streaming and royalty company.
"In my mind, the industry is ex-growth," said David Harquail, chief executive officer of Franco-Nevada Corp.
After a downturn that squeezed capital investments, most gold producers have no choice but to invest in new projects as existing mines are depleted, Harquail said Wednesday in an interview. They'll be faced with options that are, cumulatively, unlikely to boost global gold production or lower the sector's overall costs.
"None of those projects are really great," Harquail said at the BMO Capital Markets mining conference in Florida. "They would have been built by now if they were."
As a result, Harquail said Franco-Nevada plans to do more deals in the non-precious metals space, with a particular focus on oil and gas. The company's mandate allows it to have as much as a fifth of its portfolio outside precious metals, and he would like to deploy capital to get to that level soon. Currently 94 percent of Franco-Nevada's holdings are in precious metals, he said.
$1 Billion 'Firepower'
That translates into "firepower" of as much as $1 billion that Franco-Nevada can invest in non-gold deals in the next year or so, Harquail said. In November, the company spent $100 million on a package of oil and gas assets, "so I'm 10 percent done."
Streaming companies like Franco-Nevada help finance miners by giving them upfront payments in exchange for the right to buy the mined metal at a discount in the future. The Toronto-based company also does royalty deals, tying portions of production to land titles.
During the commodities downturn, Franco-Nevada benefited as the weak balance sheets of even the biggest miners prompted them to sell streams and royalties on some of their top-tier assets. Although he wishes that could have lasted another six months, Franco-Nevada will continue to generate strong cash flow from its existing portfolio, Harquail said. That's particularly true because many of its larger partners, including Kinross Gold Corp. and Barrick Gold Corp., are moving forward with advanced-stage projects.
'Growth Locked'
"No one can find anything to worry about in our portfolio -- except what are you going to do next?" Harquail said. "I'm trying to point out that we don't have to do anything in the gold sector because we have growth locked in for the next five years."
Even if the company were to do no new deals, it would be able to cover its dividend for the next 30 to 35 years, he said. Harquail is hoping the company's board will approve a 10th consecutive annual dividend increase for the company later this month.
In the meantime, "I can be discriminating" on negotiating new deals, Harquail said. The company will set an annual spending target of about $1 billion in subsequent years as well with the weighting to gold improving as companies start to go back to the market for financing to build the next wave of mines, he said.
That fresh wave may come sooner than later. After falling for three consecutive years through 2015, gold futures rose in 2016 and are up 8.5 percent this year, settling at $1,250 an ounce Wednesday on the Comex in New York.
Based on the zeitgeist at the annual BMO mining conference, miners are clearly "emboldened" to start investing, he said.
"Everyone has just come back from a near-death experience last year, so this conference feels like we're at $1,900 gold right now," he said. "It's just astounding how quickly the tables turn."
Before it's here, it's on the Bloomberg Terminal.
LEARN MORE