Fillon Postpones Major Campaign Event Amid Reports of Probe Deepening
By , , and
Republican to speak at 12 p.m. from his campaign headquarters

Le Figaro reports Fillon, wife summoned by judges this month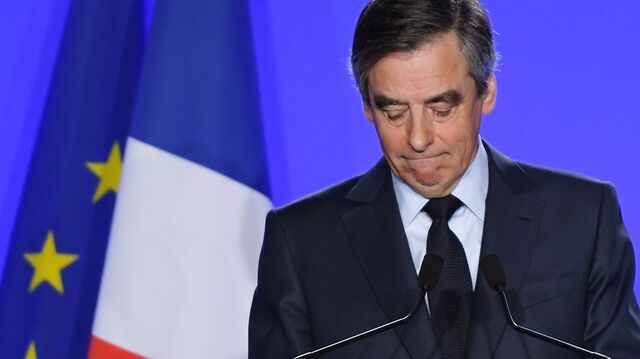 French Republican candidate Francois Fillon postponed a major campaign event and called an emergency press conference amid reports judges may be advancing a probe into his family's finances.
Fillon pulled out of a planned visit to the annual Paris farm fair at the last minute Wednesday and will speak from his presidential campaign headquarters around noon, though his aides declined to give any reason for the delay. 
To watch Fillon's statement click here.
Le Figaro reported that the candidate and his wife have been called in to speak to judges later this month as part of an investigation for possibly misusing public funds when Penelope Fillon was a parliamentary assistant. A person familiar with the investigation said that the candidate's wife has not been detained after an earlier report from Mediapart that was corrected.

Fillon's lawyers didn't respond to several requests for comment.
A chaotic morning saw Fillon's campaign team left waiting at the agricultural show when the 62-year-old former prime minister failed to show up, the latest debacle in a campaign that has seen him drop from front-runner to third place in less than two months. The visit to the annual farm fair is a high-profile, unmissable outing for all presidential hopefuls.
The latest twist comes as polls show centrist candidate Emmanuel Macron on course to beat Fillon in the first round of the presidential election on April 23 and then defeat far-right candidate Marine Le Pen for the presidency in the run-off on May 7. The bond market was little changed with the extra yield on French 10-year bonds compared with German bunds narrowing by 1 basis point to 67 basis points.
Henri Guaino, a relentless critic of Fillon from within his own camp, jumped on the postponement as evidence that the their candidate's campaign is unraveling under the pressure of the judicial probe.
"Francois Fillon can no longer campaign," Guaino said on BFM TV. "It's untenable -- politically and morally."
One-Time Favorite
At the beginning of January, Fillon was tipped to face Le Pen in the second round. Then prosecutors in Paris decided to investigate media reports that his wife had earned almost 1 million euros ($1.1 million) in public wages over several years without actually doing any proper work. His polling numbers dropped by about 5 percentage points to 20 percent and haven't recovered, leaving Macron in pole position.
Macron is visiting the farm show Wednesday.
Fillon has cried foul on the prosecutors' probe, demanding to know why the allegations came out just weeks before the election, when some of the facts date back to the 1990s. The candidate, who maintains that his wife was properly employed as his assistant, said in February he would maintain his bid for the presidency even if prosecutors open a formal investigation, contradicting an earlier pledge.
Read more: A Q&A guide to the Fillion pay revelations
Le Pen spent an entire day Tuesday at the country's annual agricultural trade fair, drawing large crowds everywhere she went as she chatted with farmers of cattle and pigs. An Ifop study released Feb. 27 said 35 percent of farmers would vote for Le Pen in the first round on April 23, up from 19.5 percent in 2012.
— With assistance by Gaspard Sebag
Before it's here, it's on the Bloomberg Terminal.
LEARN MORE