Everything's in Play After Day of Chaos in French Race
By and
Republican candidate refuses to quit as judges prepare charges

Macron strengthened even as risk of Le Pen win increases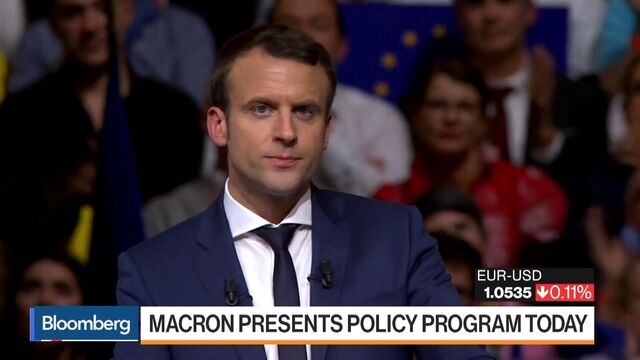 French Republican candidate Francois Fillon's mounting legal problems have left conservative voters wondering where to turn in this year's presidential election.
With key supporters abandoning the 62-year-old former prime minister's bid to bring Margaret Thatcher-style reforms to France, both centrist front-runner Emmanuel Macron and anti-euro National Front leader Marine Le Pen are in line to benefit.

The muted market reaction to Wednesday's drama suggests that Fillon's judicial troubles help clear Macron's path to a second-round runoff against Le Pen, where polls suggest he'd win easily. Macron can push that advantage home with the release of his full campaign platform Thursday.
Yet the sense of persecution on the French right also raises the possibility of riled voters opting for 48-year-old Le Pen's more radical plans to dismantle the status quo.
"From this point, everything is in play," Bruno Jeanbart, deputy CEO of pollster OpinionWay, said in an interview Wednesday. "This could lead to a new transfer of votes from the right to the extreme right. We will see between tomorrow and Monday."
Republican Defections
As Fillon was forced to deny for the second time in a month that he was quitting, Bruno Le Maire, a former minister and key adviser, abandoned the campaign, saying the candidate was breaking a pledge to withdraw if he was charged.
Republican deputies Franck Riester, Arnaud Robinet and Laure de La Raudiere joined him, signaling Fillon may be losing the battle to hold onto his party's backing. The Union of Independent Democrats, Republican allies with 27 lawmakers, also suspended their support.
The flow of defections increased Thursday morning with some Republican representatives calling for another candidate to be anointed while Senators Fabienne Keller and Bruno Gilles worried about the damage to the party's chances in June's parliamentary elections.
"I would love to win this presidential election which was unlosable and is becoming more and more unwinnable," Gilles said on France Bleu radio.
Fillon is accusing the judiciary of a politically-motivated attack as it prepares to charge him on March 15 with misuse of public funds. That's two days before registration for presidential candidates closes. In an effort to rally voters, he called the legal probe a "political assassination" and said they, not judges, must choose France's next president.
'Angry and Lost'
Fillon's supporters across the country have been shocked by the revelations that his wife earned almost 1 million euros ($1.1 million) in public wages over several years without actually doing any proper work. His polling numbers dropped by about 5 percentage points to 20 percent and haven't recovered.
According to a survey conducted overnight by Harris Interactive and released Thursday morning, 75 percent of the French want Fillon to step down. Only 53 percent of Republican voters would like him to stay in the race and just 48 percent of those who described themselves as being on the center-right of the political spectrum.
"I am angry and lost," Marie-Christine Louis, a 51-year-old cashier in Fillon's birthplace of Le Mans, said in an interview, adding that she's deserting the Republican because of what she sees as hypocrisy. "Who's left for me to choose? No one. Macron is a hoax. I think I'll vote blank in the first round, and against Le Pen in the second."
Macron, 39, a former minister in President Francois Hollande's Socialist government, has been gaining on the anti-immigration Le Pen in polls of first-round voting, with an OpinionWay survey published Wednesday putting the gap between them at just one point, less than the margin of error. That would suggest the contest is evolving into a two-horse race, with Fillon trailing in third position.

In an interview with LCP TV Thursday, Le Pen joined Fillon's criticism of French judges, saying she too believed that France's justice was used for political motives and called again for a judicial truce during the electoral campaign.
French bonds rose for a second day, with the 10-year spread over German bunds narrowing by 1 basis point to 63 basis points as of 11:23 a.m. in Paris, suggesting that investors saw the risk of a disruptive Le Pen presidency retreating.
"The market is more comfortable with the case where you have a run-off between Macron and Le Pen and that's helping the spread tighten," Luca Cazzulani, a strategist at UniCredit Group SpA in Milan, said Wednesday. "Whether the tightening is something of real substance is probably something that needs to be assessed in the coming days."
Before it's here, it's on the Bloomberg Terminal.
LEARN MORE