BOJ Cuts Purchases of Shorter-Maturity Bonds as Yields Decline
By
Central bank offered to buy 320 billion yen of 1-3-year bonds

BOJ signaled it would cut March buying in plan issued Tuesday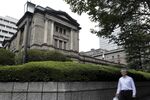 The Bank of Japan trimmed purchases of shorter-maturity debt in its first bond-buying operation in March, taking advantage of a drop in yields.
The central bank offered to buy 320 billion yen ($2.8 billion) of debt due in one-to-three years on Wednesday, down from 400 billion yen for the same maturities in its previous operation on Feb. 27. The BOJ trimmed purchases of three-to-five year notes to 400 billion yen from 420 billion yen.
The cutback underlines the BOJ's desire to focus on controlling the yield curve amid rising concerns over the sustainability of its bond purchases after it has bought up 40 percent of the nation's outstanding government debt. The central bank Tuesday sought to improve transparency by giving out the exact dates for most of its planned purchases in March.
"The plan suggests the BOJ is letting yields longer than 25 years to rise, while also suggesting cutting bonds in one-to-five-year maturity," said Souichi Takeyama, a rates strategist at SMBC Nikko Securities Inc. in Tokyo.
The Japanese central bank will buy most type of bonds between two to six times in March, it said in a statement Tuesday, little changed from February. The BOJ gave a narrower range for the amount it will spend at each auction. Using the midpoint of the purchase range, the central bank is projected to buy 8.9 trillion yen of bonds for the month, which will be down from the 9.5 trillion yen it has spent in February on regular operations.
Anchoring Yields
BOJ Governor Haruhiko Kuroda has told investors they shouldn't read too much into the daily operations, while reiterating a plan to anchor the 10-year yield at around zero percent.
The yield on the five-year bond climbed 1.5 basis points to minus 0.13 percent, while that on the 10-year rose half a basis point to 0.055 percent.  
"The BOJ's clear message is to reduce bond buying in the one-to-three-year zone, and the rest will be the same as in February," said Kazuhiko Sano, chief bond strategist at Tokai Tokyo Securities. Sano said the change in format of monthly purchase should not impact markets as it resulted from the BOJ's "unskillful" market operations.
The changes are intended to reduce volatility in bond yields and increase transparency, a BOJ official said at a briefing Tuesday. Based on the midpoint of the purchase range, the central bank will buy fewer bonds in the one-to-five-year zone, where yields have fallen recently, and more maturing between five and 25 years.
— With assistance by Masaki Kondo
Before it's here, it's on the Bloomberg Terminal.
LEARN MORE