business
'Chairman's Flight' Recipient Seeks Probation in Bribery Case
By
Christie ally argues that United flight was 'narrow benefit'

Samson faces two years in prison when sentenced on March 6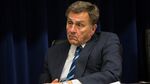 A former close political ally of New Jersey Governor Chris Christie urged a judge to spare him prison for pleading guilty to pressuring United Airlines to fly a money-losing route convenient to his family's weekend home.
David Samson, once chairman of the Port Authority of New York and New Jersey, faces as many as two years in prison but should get probation for the scandal dubbed "the chairman's flight," his lawyers wrote to a federal judge in Newark, New Jersey.
Samson, 77, received "an extremely narrow benefit" by United reinstating a twice-weekly route from Newark to South Carolina, his lawyers said. Jeff Smisek, the former Chief Executive Officer of United Continental Holdings Inc., was ousted after Samson's plea last July, and the airline paid more than $4.6 million in penalties to U.S. authorities. Former United lobbyist Jamie Fox also was charged but died on Feb. 20.
Defense lawyers submitted four dozen letters in support of Samson, including from former Governor James McGreevey and several ex-attorneys general. The lawyers cited Samson's "dramatic and tragic fall from grace," while arguing his "precarious" physical and mental condition support their plea for leniency when he is sentenced on March 6.
"David unquestionably misused his position in this isolated incident, but he was not corrupted," Samson's attorneys wrote. "He has been publicly and politically humiliated, despite having served in a variety of public and private positions with distinction. He will end his life branded a felon."
Long Career
Samson, who served as Port Authority chairman from 2011 to 2014, was a member of Christie's inner circle and chaired the governor's transition team in 2009. Samson, a Republican, was attorney general under McGreevey, a Democrat, and a built a law firm that reaped lucrative legal and consulting contracts from state agencies and authorities.
The scandal had its roots in a September 2011 dinner in a Manhattan restaurant, where Samson told Smisek about his commute from Newark to Aiken, South Carolina, defense lawyers wrote. Samson asked Smisek if United would reinstate a flight to Columbia, South Carolina, so he could avoid an hour of driving time from Charlotte, North Carolina. 
Smisek said he "would look into his request," Samson's lawyer wrote. After the airline balked at reinstating the flight, Samson arranged for the Port Authority's board to delay consideration of a plan for a United wide-body hangar at Newark Liberty International Airport, which included $10 million in public money. 
Amid that delay, Fox asked Samson about the board agenda. Samson wrote back: "Yes, it's already off this month's agenda: I hate myself," according to the charge he admitted. Christie later appointed Fox to be New Jersey's commissioner of transportation.
A 2013 Traffic Jam That Still Dogs Chris Christie: QuickTake Q&A
In their sentencing memo, Samson's lawyers said that it was "unquestionably wrong" to delay the vote for three weeks, but he "never attempted to alter the agreement's terms, nor did he attempt to interfere with its ultimate passage." Samson paid full fare for the 27 flights he took between October 2012 and January 2014, and he wasn't compromised in negotiations with United on several other matters, his lawyers wrote.
Despite his failing health, Samson is an ideal candidate for community service, citing work he has done for Goodwill Industries in South Carolina and Georgia, his lawyers wrote. 
U.S. District Judge Jose Linares agreed to make public the sentencing memo, with redactions, after a media request. The sentencing recommendation of U.S. Attorney Paul Fishman hasn't been made public.
The case is U.S. v. Samson, 16-cr-334, U.S. District Court, District of New Jersey (Newark).
(
Updates with excerpt of sentencing memo in fifth paragraph.
)
Before it's here, it's on the Bloomberg Terminal.
LEARN MORE