Your Evening Briefing
Here are today's top stories
Bloomberg News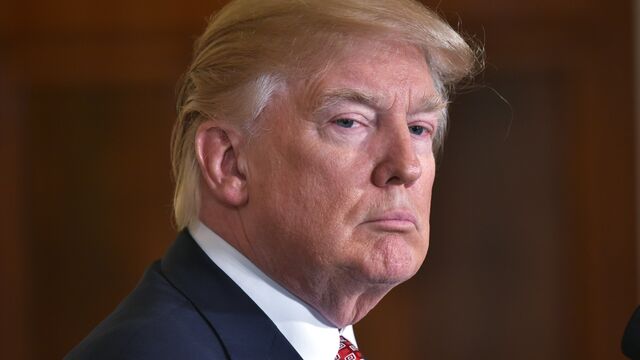 Want to receive this post in your inbox every afternoon? Sign up here.
This evening, President Trump will deliver his first address to Congress since taking office, and it could determine if markets and voters think he has a firm handle on the job. The speech, which has taken on the air of a State of the Union, begins at 9:10 p.m. EST. You can follow coverage and analysis on our live blog here, and watch a live stream here or on Bloomberg TV. –Emily Banks
Trump will be on the hook to clarify policies in his speech to Congress. Six weeks into his presidency, Trump is under increasing pressure to answer core questions about how he'll deliver on his promises to change to U.S. health-care policy, the tax system, defense spending and immigration. Investors are anxious ahead of Trump's address. Behind the scenes of a stock market on a tear since Election Day are signs that they've begun to worry about a rupture.
Mom and pop investors are behind this historic market rally, according to an analysis by JPMorgan Chase. The telltale sign retail investors are behind the longest string of U.S. stock highs in decades? An $83 billion surge of cash into passive strategies so far this year amid a $15 billion withdrawal from actively managed funds. That's on top of evidence that institutional traders have backed away, the bank says.
What's next for PricewaterhouseCoopers and the Oscars after its spectacular blunder? The organization behind the Academy Awards is weighing its next move after a partner at PwC handed out the wrong envelope for best picture. The academy and PwC made clear in separate statements that the mistake went beyond human error, identically citing "breaches of established protocols" at the ceremony.
Trump blamed Obama for protests. The president said he believes his predecessor is riling up protesters against his administration and that Obama's "people" may be the source of unflattering national-security leaks to the media. Trump made the comments in an interview with the hosts of "Fox and Friends" this week, and he didn't offer any evidence of the claims.
Stephen Miller is the force behind the White House's policies and the author of Trump's speech tonight. The 31-year-old, who helped mastermind the sudden and much-criticized rollout of Trump's executive order banning refugees from seven Muslim-majority countries, not only survived the uproar and calls for his firing, but also appears to be ascendant at a time when other West Wing staffers are diving for cover. Miller's resiliency offers a lesson in how to survive the Darwinian world of Trump's White House.
South Korea's special prosecutor indicted Samsung's Jay Y. Lee on bribery charges, along with four other company executives. The Samsung vice chairman is accused of directing tens of millions of dollars to entities controlled by a confidante of President Park Geun-hye, in return for government support of a 2015 merger that cemented his control of the group. Lee will stand trial over the accusations.
This $29 million NYC penthouse is hidden in the sky. In 2011, architect Barry Rice was hired to design a brand-new building on Manhattan's Upper East Side. There was one catch: The building it was meant to replace was landmarked, and the 1928 brick facade had to stay. "We demolished the building behind the facade, but we kept the facade itself," said Rice. The process, while arduous and subject to multiple revisions, resulted in an apartment with unusual amounts of outdoor space, gracious northern and southern light, and an historic, intimate feel.

Before it's here, it's on the Bloomberg Terminal.
LEARN MORE