business
Your Evening Briefing
Bloomberg News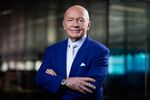 A rally in Asian stocks this year has only just begun. That's the view of a raft of top investors who point to the rising middle class, low valuations and strong economic projections. Even Trump's threats aren't deterring the bulls. If the president slaps tariffs on Asian products, says Mark Mobius, investors should focus on Asian companies that could benefit—those with manufacturing and sales operations in the U.S. For now, the future's looking bright.  —Alex Millson
South Korea's special prosecutor is to indict Samsung's Jay Y. Lee on bribery charges, along with four other company executives. The Samsung vice chairman is accused of directing tens of millions of dollars to entities controlled by a confidante of President Park Geun-hye, in return for government support of a 2015 merger that cemented his control of the group.
China's top diplomat meets Donald Trump. Yang Jiechi met with the president in the highest-level contact between the two countries since the U.S. election, amid escalating concerns about North Korea's nuclear program. The meeting came as reports emerged that the U.S. is considering branding North Korea a state sponsor of terrorism, and South Korea said five North Korean security officials were executed with anti-aircraft guns.
When is an election not an election? Hong Kong picks its new leader in March, but the city's 3.8 million voters won't be making the final decision. Instead, the chief executive will be chosen by an electoral college of 1,200 business and political elites, including nine tycoons worth more than $100 billion combined. What's more, China can veto any winner it doesn't approve of. Here's how the complex system works.
They're a gloomy lot, Down Under. Australia's millennials are so pessimistic about the future that only 8 percent expect to be better off than their parents and just 4 percent expect to be happier, according to a Deloitte global survey. As for job satisfaction, 42 percent expect to quit within two years.
These are Asia's longest and shortest trading days. While Singapore looks at the possibility of reinstating a lunch break in its unbroken eight-hour trading day, things are rather more relaxed elsewhere. The Shanghai trading day is so short you're unlikely to even need a bathroom break.
Vietnam wants its gamblers to spend $800 million at home. Casinos will be opened up to locals and betting on horses, dogs and soccer matches will be allowed across the country in a pilot plan to help ease government debt. The country is hoping some of the $800 million that Vietnamese spend gambling abroad each year will stay within the borders and provide a sizable chunk of tax revenue.
Tesla tanks after Goldman downgrades stock to sell. Doubt has been cast on Elon Musk's ability to deliver his new vehicle, the Model 3, on time. After analyst David Tamberrino downgraded the shares from neutral, adding that the company was likely to need to raise capital before the end of the year, the stock sank 5 percent.
Want to check out Japan's famed cherry blossoms? Those romantic visions of temples flanked by canopies of blooming trees aren't easy to replicate in real life, thanks to a short, unreliable season and elbow-to-elbow crowds. Here's how (and when and where) to do it right.

Before it's here, it's on the Bloomberg Terminal.
LEARN MORE