Famine-Hit South Sudan Areas Struggling to Get Aid, UN Says
By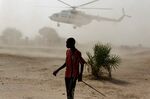 A United Nations aid coordinator called on South Sudan to allow access to those in need after insecurity forced some relief workers to leave one of two northern counties suffering from a famine declared last week.
About 100,000 people are facing starvation in parts of Unity state, the subject of the Feb. 20 declaration, while another 1 million are on the brink of famine. Twenty-eight aid workers had to leave Unity's Mayendit county at the weekend, the latest in a series of events that have hampered relief operations and put civilians at risk, the UN's Eugene Owusu said Tuesday in a statement.
While President Salva Kiir last week pledged to give aid groups unimpeded access, "it's critical that these words be translated into concrete actions on the ground immediately," Owusu said.
Civil war that began in the oil-producing African country in December 2013 has claimed tens of thousands of lives and forced more than 3 million people to flee their homes. The UN, which says $1.6 billion is needed to give life-saving aid, estimates that 5.5 million people will face severe food shortages by July's lean season.
Before it's here, it's on the Bloomberg Terminal.
LEARN MORE