U.K. Lords Confident of Defeating May Over Brexit Bill Amendment
By , , and
Labour, Lib Dems back EU migrants' right to stay in U.K.

Defeat would complicate goal of triggering Brexit this month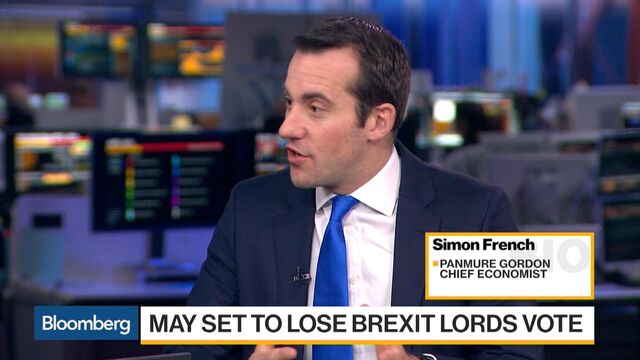 U.K. opposition lawmakers are confident of inflicting a first defeat for Prime Minister Theresa May on her draft law to begin Britain's EU withdrawal, potentially complicating her timetable for Brexit.
The House of Lords, where May doesn't have a majority, is due later on Wednesday to vote on a provision to guarantee the rights of EU citizens living in Britain. With Labour and Liberal Democrat peers under orders to support the amendment, coupled with the support of a "handful" of Conservatives and perhaps two-thirds of independent members, defeat for May looks likely, said Dick Newby, leader of the Liberal Democrats in the upper chamber. 
"It's very difficult to see how the government can avoid a defeat on it," Newby told reporters in London. "I would expect a clear victory."
After the bill passed unaltered through the House of Commons last month, the unelected Lords are threatening to make it harder for May to trigger two years of Brexit negotiations by her self-imposed deadline of March 31. While the premier has repeatedly said she wants to guarantee the rights of more than 3 million EU citizens in the U.K., she says it's contingent on reciprocal guarantees for Britons abroad.
'Bargaining Chips'
"To continue to use people as bargaining chips in this way is not only shameful but could have a dire impact on the U.K.'s economy and essential services," said Angela Smith, Labour's leader in the upper house.
One senior official in May's administration said on Tuesday there was no way the government could avoid defeat because Labour and Liberal Democrat legislators outnumber the ruling Conservatives in the House of Lords. 
In an effort to stave off defeat, Home Secretary Amber Rudd wrote to the Lords on Tuesday to provide reassurances that the issue is a "priority." She praised the "vital contribution" that EU nationals in the U.K. make to the economy and society.
The Lords began debating the amendment at about 3:30 p.m. local time. One Conservative former minister Douglas Hogg suggested he'll rebel, evoking memories of Idi Amin expelling Asians from Uganda.
"I don't say we're going to do this, I don't think it's likely that we will, but we haven't put it outside our power for that to happen," Hogg said. "I do ask our leadership to take the high moral ground and give reassurance to the millions who've made their home here with the expectation that they can remain here."
Ping Pong
Countering him, former Tory Leader Michael Howard said the best way to end the uncertainty for EU residents would be to "to pass this bill as quickly as possible" and begin Brexit talks.
"This bill was passed unamended in the Commons -- it's a short bill to enact the will of the people," Greg Swift, May's spokesman, told reporters in London on Wednesday. "After a healthy debate we would hope to see the bill progress unamended."
Newby said he expects three more amendments to be voted on next week, covering Northern Ireland, a second referendum and providing for a "substantive" vote in Parliament on May's eventual Brexit deal.
Defeat on any of the amendments will mean May has to persuade the Commons to vote again to overturn the amendment and send the bill back to the Lords, a process known as ping pong. Alternatively, she could accept the loss and agree to give the unilateral guarantee she wants to avoid. Newby suggested the Lords may not have the appetite to fight over the issue if the Commons rejects the amendments.
"There are a lot of people in the Lords who think that you can only vote against a bill once," he said. "That is a common view."
Before it's here, it's on the Bloomberg Terminal.
LEARN MORE