U.K. Companies Want May to Put Ideology to One Side in EU Talks
By
Prime minister should prioritize cross-border business: BCC

Companies want minimal tariffs, assurances for EU workers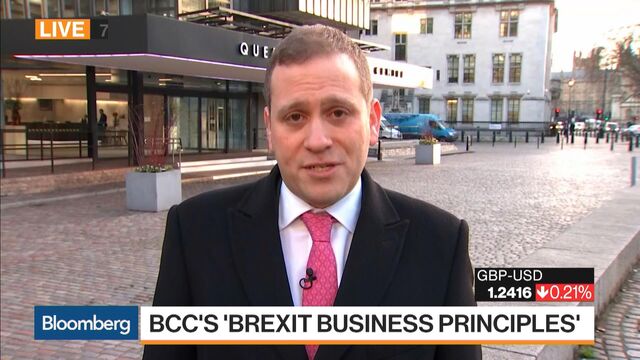 U.K. Prime Minister Theresa May should prioritize the "nitty-gritty" of doing business across national borders over domestic political concerns as the country negotiates its withdrawal from the European Union, the British Chambers of Commerce urged.
Britain should provide assurances to EU workers who are already in the country, push for low tariffs and ensure that there is no sudden disruption to trade with the bloc once the two-year negotiation period ends, the business lobby recommended in a report published Tuesday.
"Business communities across the U.K. want practical considerations, not ideology or politics, at the heart of the government's approach to Brexit negotiations," Adam Marshall, BCC director-general, said in a statement.
May has said her Brexit plan calls for the U.K. to leave the EU's single market as she prioritizes curbing immigration and other measures to bolster British sovereignty. If that results in tariffs or other trade barriers with the other 27 EU members, U.K. companies could face higher costs and other threats to their profits. The House of Lords is debating the government's bill to authorize starting the withdrawal process.
The BCC also said that the U.K. should adopt existing EU trade agreements with other countries, like South Korea, and incorporate the bloc's regulations into domestic law to keep exporters competitive.
To prevent companies from getting stuck in an indefinite limbo, a transitional arrangement with the EU should be implemented only if the U.K. is unable to strike new trade agreements during the two-year period for talks, the group said.
Before it's here, it's on the Bloomberg Terminal.
LEARN MORE