Turkey's Central Bank Is Racing to Buy Bonds
By and
Authority's holdings of state debt at their highest since 2008

Nomura says purchases may hamper central bank's tightening bid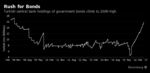 Turkey's central bank is ramping up purchases of government bonds ahead of the biggest projected monthly debt-repayment from the Treasury in three years.
The monetary authority has bought 2.2 billion liras ($610 million) of government bonds from the secondary market this year, increasing its holdings to 16 billion liras as of Feb. 27, the highest level since 2008, according to the latest central bank data. The Treasury is due to repay 17.6 billion liras of debt in March, the largest monthly redemption since the same month of 2014.
The central bank now holds more than this year's 15 billion-liras target, which the regulator said it increased in January in an effort to improve liquidity in the market. It might be front-loading on purchases rather than waiting until after some of the debt falls due in order to rebuild its holdings, said Bora Bocugoz, executive vice president for treasury and financial institutions at Denizbank AS in Istanbul.
The pace of purchases is fueling speculation that the central bank may be moving to drive borrowing costs lower even as it tightens short-term money-market rates, which it has increased by about 200 basis points this year in an effort to support the lira.
The central bank started buying long-dated bonds for the first time this year, with 15 of the 18 bond purchases it made this month maturing in 2023 and 2024. It also broke with a tradition of holding regular auctions held on Wednesdays and Fridays, buying 200 million liras of debt in an unexpected auction on Monday.
'Tightening Efforts'
"The impression is that the central bank is accelerating its bond buybacks," Nomura International Plc's London-based economist Inan Demir said by phone. "If that's true, the buybacks will provide permanent liquidity to the system, thus hampering its tightening efforts."
Others are less convinced. Societe Generale's emerging market strategist Phoenix Kalen says it's not clear yet whether the purchases are intended to support the central bank's open-market operations or whether this is an "engagement in QE."
"What we can reasonably say is that increased purchases of government bonds will certainly be supportive for local bond markets in pushing yields lower," she said.
The yield on the nation's 10-year bond has dropped 106 basis points from a record high this year while the nation's credit default swaps have narrowed to near the lowest since a failed coup attempt in July. Denizbank's Bocugoz said the central bank's purchases may also be a signal that it expects the improvements to continue.
"If there is indeed a message the central bank is trying to relay with these purchases, it should be that the bank expects yields on long-term bonds to fall," he said.