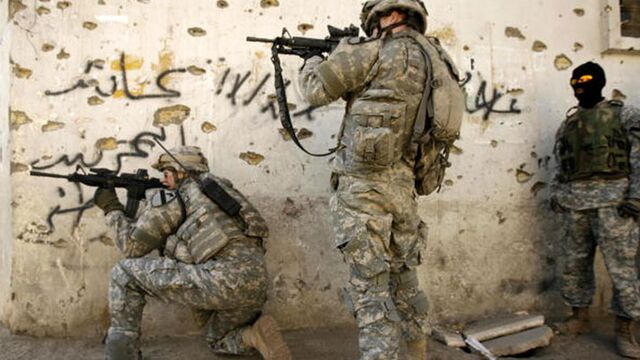 In his first budget proposal, unveiled March 16, U.S. President Donald Trump followed through with an earlier pledge to outline a dramatic shift of federal dollars toward defense at the expense of civilian programs. Under his plan, the Pentagon would receive $574 billion for its regular budget, an increase of 10 percent, or $52.3 billion, over fiscal 2016, the last time Congress enacted a full-year budget. With the exception of the Transportation Department, non-security related departments and agencies would have their budgets cut from 1 percent to 30 percent. Trump said that the "core" of his budget, which faces significant opposition in Congress, is "the rebuilding of our nation's military." Apart from the terrorist group Islamic State, he hasn't said much about what threats he wants a mightier military to address.

1. How does Trump propose to spend the money?
His budget speaks mostly in generalities about strengthening the various armed services. It mentions specifically providing the Air Force additional F-35 fighter jets and improving cyberwarfare capabilities. It increases spending on veterans affairs 10 percent. In the past, Trump has pledged to boost the number of U.S. Navy vessels to 350 from about 272 today, which the nonpartisan Congressional Research Service estimates would cost an average of $4 billion annually for construction alone. He pledged to increase the Army's active-duty troops to 540,000 from 465,000. Departing Army Secretary Eric Fanning estimated that would cost an extra $12 billion over time. Trump's also promised to escalate spending already planned to modernize the U.S. nuclear arsenal.

2. Did the military request those increases?
The Navy set a goal of 305 ships under Trump's predecessor, Barack Obama. Ash Carter, Obama's defense secretary, warned about "irresponsibly" exceeding that goal at the risk of sacrificing quality for quantity. In December, after the election, the Navy echoed Trump in a new assessment, saying it needed as many as 355 ships. As for personnel, senior Army officers have expressed hesitation about increasing numbers past half a million. Growing too quickly runs the risk of enlisting lesser-skilled recruits -- a problem the Army encountered during the Iraq War when it hit a high of 566,000 active-duty troops.
3. Why does Trump want them?
He's said the military has been "very depleted" by limits on defense spending (other than overseas war-fighting operations) imposed by the Budget Control Act of 2011. Senior officers have warned that the cuts have impaired the military's preparedness, with half of all Navy aircraft grounded, awaiting maintenance or spare parts, and just three of the Army's 50 brigade combat teams sufficiently staffed, trained and equipped to fight on short notice.
4. Is Trump planning for war?
In a presidential memorandum in January, Trump ordered the military to devise a new plan to defeat Islamic State, the terrorist group that controls parts of Syria and Iraq. He identified the group as a threat to the U.S. because it has murdered U.S. citizens in the Middle East and elsewhere, and because the menace it poses could grow. The Pentagon delivered preliminary options to the White House on Feb. 27.
5. Isn't the U.S. already fighting Islamic State?
Yes. Since 2014, the U.S. has led a coalition, now made up of 60 nations, in a campaign to back Iraqi military forces and Syrian rebels fighting Islamic State. Major powers have committed relatively few ground troops to the fight, contributing mainly air assaults. About 5,000 military personnel from the U.S. and 2,000 from elsewhere are deployed in Iraq. About 1,000 more Americans are in Syria. The strategy has kept casualties for major powers relatively low, limiting related political blow-back at home. Critics, including Trump, say the cautious approach also diminishes the chances of success. Trump promises to "totally obliterate" Islamic State.
6. What other threats has Trump identified?
The White House website speaks of the need to develop state-of-the-art systems to defend against missile attacks from Iran and North Korea, should those countries develop such capabilities. It states: "We cannot allow other nations to surpass our military capability."
7. Are any nations close to achieving that?
No. The U.S. leads the world in military spending by far. In 2014, its $610 billion in spending comprised 34 percent of the world total and was more than that of the next seven countries combined. Russia and China have more tanks, and China has more active military personnel. However, the U.S. fleet of aircraft, attack helicopters, aircraft carriers and submarines significantly surpasses that of its rivals. The U.S.'s 6,800 nuclear warheads are matched by Russia's 7,000, but no other country has more than France's 300.
8. Will Trump's plan be enacted?
It faces strong opposition in Congress both from Democratic lawmakers and within Trump's own Republican party. Democrats don't like that it would fund an increased military by cutting spending on such items as medical research, education and environmental protection. Apart from the EPA, the State Department would be hit hardest, with a 28.5 percent cut. Many lawmakers, of both parties, say its work, including foreign aid, is essential. Some Republicans oppose the plan because it doesn't cut entitlement programs such as Social Security and Medicare, which make up about two-thirds of the $4 trillion federal budget. Other Republicans, including Senate Armed Services Committee Chairman John McCain, said Trump isn't planning to spend enough. He said Trump's plan is "a mere 3 percent" above Obama's projected defense budget for fiscal 2018, an approach that "has left our military underfunded, undersized, and unready to confront threats to our national security."
The Reference Shelf

— With assistance by Anthony Capaccio
Quotes from this Article
Before it's here, it's on the Bloomberg Terminal.
LEARN MORE