Trump Puts Final Touches on Speech Focusing on Economy, Defense
By
Aides decline to say whether Trump will offer policy specifics

President will cite end of TPP as an early accomplishment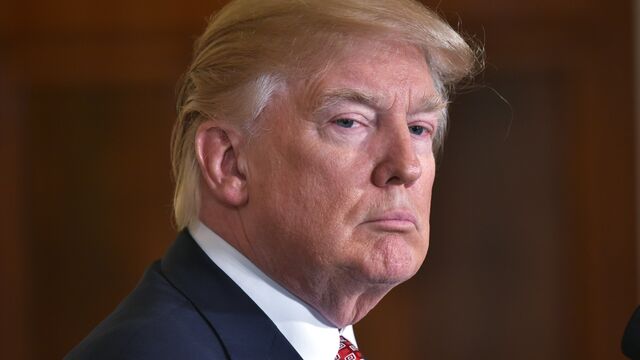 President Donald Trump was still working Monday evening on the final touches of an address to Congress that will focus on economic opportunity and national security, administration officials said.
The officials, who briefed reporters on the eve of the address on the condition of anonymity, said the speech will offer a vision of where Trump wants to take the country as well as an early accounting of campaign promises he has already delivered on through executive actions such as the U.S. withdrawal from the Trans-Pacific Partnership trade agreement.
They declined to say whether the president would offer more concrete proposals on major goals, such as rebuilding U.S. infrastructure, rewriting the tax code and replacing the Obamacare health plan.
Trump's speech comes as the new president tries to stabilize his administration after a turbulent start marked by struggles implementing an initial flurry of executive orders and a controversy over contacts between Trump advisers and Russian officials that led to the resignation of his national security adviser.
While Trump's inauguration speech offered a gloomy portrait of an America racked by violence and economic decay, White House press secretary Sean Spicer said earlier Monday that the address to Congress will strive for an optimistic vision focused on "the renewal of the American spirit."
Surveys show a deep partisan divide over the president's performance. A Wall Street Journal/NBC News poll released Monday showed Trump's approval rating at 44 percent -- a record low for a new president. But 85 percent of Republicans see Trump favorably, versus just 9 percent of Democrats.
National security was the key theme of an early glimpse of the budget the White House offered on Monday. Administration officials said the president's first budget would seek to boost defense spending by $54 billion -- offset by an equivalent cut from other discretionary spending.
Before it's here, it's on the Bloomberg Terminal.
LEARN MORE