Trump Not Enough to Revive U.S. Investment, Kremlin Liaison Says
By and
Risks are high in Russia, while returns are low, Titov says

Titov comes back cautious after trip to U.S. for inauguration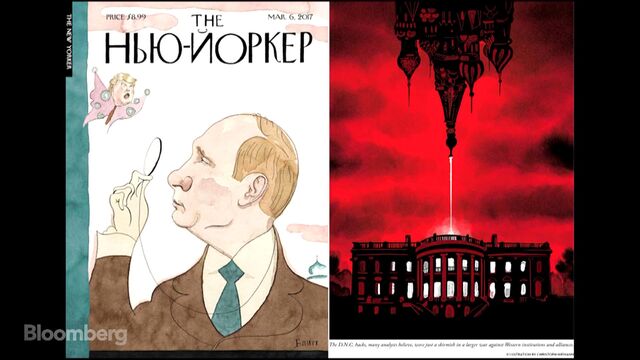 The Kremlin's point man for business spent a nearly a week in the U.S. last month meeting officials and executives and came away with a sobering message for his compatriots betting that the Donald Trump Administration will usher in a new era of economic cooperation.
"Even if they lift sanctions, investment won't flow," Boris Titov, the Kremlin's ombudsman for business, said in an interview in Moscow. "For the moment, the risks in Russia are too high and the returns too low."
Titov, who was one of the highest-ranking Russians to attend Trump's inauguration last month, is the latest senior official to admit a hint of disappointment since the new administration took office. Initial hopes fueled by Trump's friendly talk about Russia and President Vladimir Putin on the campaign trail have faded as the administration has moved slowly on rebuilding Kremlin ties amid swelling scandals around alleged Russian contacts during the election. State media, closely controlled by the Kremlin, have been ordered to tone down their fawning coverage.
Titov said he came away from his meetings with U.S. business and government representatives with a message that the obstacles to closer relations go beyond political storms. Even if sanctions imposed over the Ukraine crisis are eased -- something Titov said he's increasingly skeptical will happen soon -- "investment still won't flow" to Russia, he said. "The sanctions are in people's heads -- they'd rather steer clear just in case."
Trump 'Hope'
Russia needs to provide a clearer strategy for getting growth back into high gear, Titov said, and show that the government is capable of delivering on that. Titov, who built companies ranging from chemicals to sparkling wine and also headed Delovaya Rossiya, one of the country's largest business groups, is also leading a team of experts that's one of several such bodies advising the Kremlin on economic policy. Titov's group has called for lower interest rates and a weaker ruble to help stimulate industry, criticizing the central bank's focus on cutting inflation and letting the exchange rate float freely.
Titov said his trip to the U.S. wasn't an official one -- he attended the inauguration on an invitation from a U.S. business contact -- but he had the blessing of the Kremlin. He said he came away from his visit with the clear sense that the new administration is likely to put any major steps to improve ties with Russia on hold until the political environment for such shifts becomes clear.
In the interim, Titov said he's planning a "road show" in June to the U.S. on behalf of the Kremlin to pitch Russian investment opportunities to mid-sized U.S. companies.
"Trump is hope," he said.
Before it's here, it's on the Bloomberg Terminal.
LEARN MORE