Trump Infrastructure Plan Seen as Key to Dodging China Trade War
Bloomberg News
Spending splurge may boost jobs and relieve pressure on trade

Trade tensions to rise before investment begins, Pettis says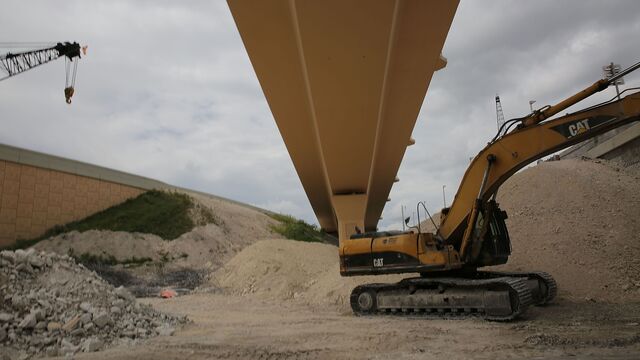 Donald Trump's plan to spend big on infrastructure may determine whether the U.S. and China end up slugging it out in a trade war.
The link between those seemingly independent variables all comes down to jobs. If a splurge on airports and rail networks boosts employment and growth in the U.S., there'll be less need to deliver on promises to deal with the China trade issue, said Michael Pettis, professor of finance at the Guanghua School of Management at Peking University in Beijing.
"It might be enough to turn attention elsewhere," said Pettis, former head of emerging markets at Bear Stearns Cos. in New York. "For the world, that's definitely the best-case scenario."
There is no choice but to spend on infrastructure, Trump said Monday in remarks made in Washington before an address to Congress Tuesday. His campaigning featured pledges to level the playing field on trade with China, which he has accused of "raping" the U.S. with job-destroying currency and trade policies that amounted to "the greatest theft in the history of the world."

Wilbur Ross, who was confirmed as U.S. commerce secretary Monday, warned during his Senate testimony that trading partners should practice "fair trade" and cut state control over business if they want access to the world's biggest economy. The billionaire called China the "most protectionist" major nation.
China needs Trump's infrastructure plan to gain momentum quickly because without it there's no way trade tensions won't worsen, said Pettis. Such an outcome would be "terrible" for countries with large surpluses like China, Germany and Japan, he said. In trade wars, the surplus countries typically bear the brunt of the costs while deficit countries with diversified economies come out ahead, Pettis said.
The good news is that Trump's infrastructure plan may prove successful, said Pettis. That's because the acute need for new and refreshed infrastructure means such spending could stoke growth by more than it inflates debt, said Pettis. 
"There is this tremendous fear of debt," he said. "But that's confusing debt with the debt burden. There's good debt and there's bad debt. If you borrow $100 and create $110 of value you don't have a debt problem."
Because the U.S. infrastructure plan will take time to ramp up, trade tensions are still likely to worsen in the short term, Pettis said. After that, the outcome on trade hinges on the impact of Trump's infrastructure investment.
"If an infrastructure investment boom was able to reduce unemployment to practically zero then that's all that needs to happen," he said.
— With assistance by Kevin Hamlin
Before it's here, it's on the Bloomberg Terminal.
LEARN MORE