Farage's Knighthood Bid Thwarted by Own Party Despite Trump Dinner
By
Ex-leader of Independence Party wants only lawmaker expelled

UKIP in crisis after failing to win seat in Brexit capital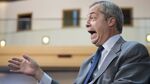 Brexit has turned out to be something of a curse for the U.K. Independence Party.
After helping convince a majority of Britons to leave the European Union, the political fortunes of the anti-immigration party have been on a downward spiral. Two leaders have quit and last week it failed to win a second member of parliament in Stoke-on-Trent, dubbed the Brexit Capital.
The latest and seemingly trivial row is over a royal honorific. Yet it could unleash the most damage: the expulsion of the only UKIP lawmaker in the House of Commons.
Nigel Farage, the ex-leader who dined with Donald Trump in Washington over the weekend, demanded in writing that Douglas Carswell be given the boot. While he cited splits over policy, the Daily Telegraph has reported that the row was fueled by Carswell's failure to support a knighthood for Farage.
"Since the general election he has brought nothing to the party at all other than constant division, at times I believe deliberately stirred up to cause maximum damage to the party," Farage wrote in the Telegraph of Carswell. "The time for him to go is now."
The split reflects wider divisions among those who supported Britain's departure from the 28-nation bloc. Farage and UKIP campaigned on the grounds of stopping immigration. Carswell, an economic liberal who defected from the governing Conservative Party, saw the debate as being about sovereignty, and opposed Farage's line.
A few weeks ago, UKIP's newest leader, Paul Nuttall, had hoped that the Feb. 23 special election in Stoke would see him join Carswell in Parliament. More than two-thirds of the city dwellers voted to leave. In the event, the Labour Party held the seat, with Nuttall in second place, barely ahead of the Tories.
Before it's here, it's on the Bloomberg Terminal.
LEARN MORE