Bank of Montreal Gains After Profit Beats Analyst Estimates
By
Scotiabank, BMO post profit helped by capital markets earnings

Bank of Nova Scotia joins RBC, CIBC in lifting dividend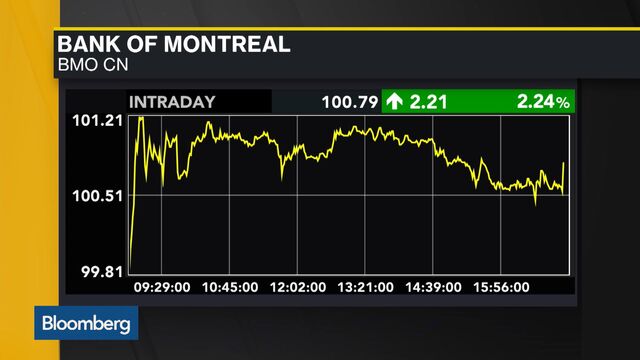 Bank of Montreal climbed the most since December after posting fiscal first-quarter profit that beat analysts' estimates, fueled by improvements in wealth management and capital markets and a gain from selling a payments business.
Bank of Montreal shares advanced 2.4 percent to C$100.99 at 10:34 a.m. in Toronto, the best performance in the S&P/TSX Commercial Banks Index. Bank of Nova Scotia, which also reported profit exceed estimates Tuesday, slipped 1.9 percent to C$77.78.
"Bank of Montreal beat expectations by a wider margin than Bank of Nova Scotia, which is one of the reasons why the stock is doing better," Ian Nakamoto, an equity specialist at Raymond James Ltd., which manages about C$34 billion in assets including Canadian banks. "Also people seem to prefer those companies in Canada with U.S. exposure -- the higher the exposure the better."
Bank of Montreal reported adjusted profit of C$2.28 a share, topping the C$1.87 average estimate of 16 analysts surveyed by Bloomberg. Scotiabank's per-share profit excluding items was C$1.58 a share, a penny above average estimates. Scotiabank raised its quarterly dividend 2.7 percent to 76 cents a share.
Trading Surge
Canadian banks, with their stocks close to record highs, are benefiting from a surge in trading helped by a post-election rally in the U.S. and a pickup in deals and financings. A rebound in oil prices and stronger economic growth in Canada are also cutting loan-loss provisions for most of the country's biggest banks.
Scotiabank, Canada's third-largest lender, posted an 11 percent increase in net income to C$2.01 billion, or C$1.57 a share. Bank of Montreal's profit rose 39 percent to a record C$1.49 billion, or C$2.22 a share, helped by a gain from selling businesses, according to statements from the Toronto-based banks.
Scotiabank's global banking and markets division led the profit gains, with a 28 percent earnings jump to C$469 million. Trading revenue rose 25 percent to C$548 million and investment-banking fees jumped 81 percent to C$143 million.
Earnings from Canadian banking increased 12 percent to C$981 million, while international banking profit rose 14 percent to a record C$637 million. Scotiabank has operations in more than 55 countries, including Latin America, the Caribbean and Asia.
'Right Countries'
"Our business is performing exceedingly well, we're in the right countries, we're focused," Scotiabank Chief Executive Officer Brian Porter said on a call with analysts, referring to international banking. "What's going on on Main Street is different than what's going on in terms of the latest rhetoric out of Washington or the latest tweet."
For Bank Montreal, Canada's fourth-biggest lender, wealth management and BMO Capital Markets business led earnings growth, which was also helped by a net gain of C$133 million from selling part of the bank's U.S. indirect auto portfolio and a stake in a U.S. payments processor, Moneris USA.
Wealth management, which includes insurance, rose 81 percent to C$266 million, while BMO Capital Markets, coming off its most successful year for U.S. dealmaking, posted a 46 percent increase in earnings to C$376 million. Trading revenue gained 20 percent to C$507 million and investment-banking fees climbed 49 percent to C$248 million.