Russia Tells Trump 'Enough Talk,' Time to Team Up in Syria Fight
By and
Shoigu, Mattis should meet soon, Russian defense official says

U.S. defense spending hike doesn't threaten Russia, Fomin says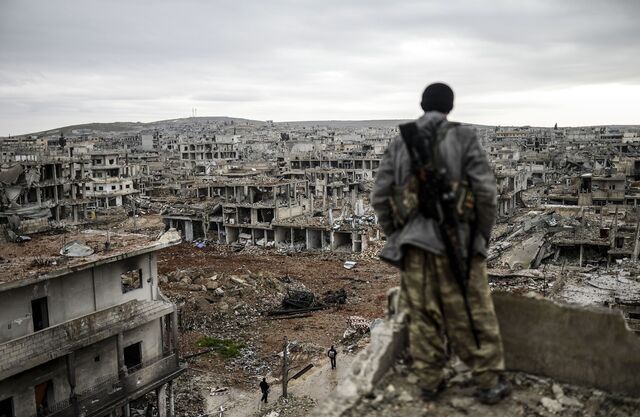 More than a month into the new U.S. administration, Russia's getting impatient for President Donald Trump to make good on his promise to mount a joint fight against Islamic State, according to a senior defense official.
"Enough talk about it," Russian Deputy Defense Minister Alexander Fomin said, referring to prospects of cooperation with the U.S. in Syria. Russian and U.S. defense officials at airbases in the Middle East "are exchanging information and this could be extended" to allow for joint operations, though no "there've been no concrete steps so far," Fomin said in an interview in Bishkek, Kyrgyzstan, on Tuesday.
Fomin's comments are among the most direct expressions of frustration with the Trump administration from a senior Russian official, as initial euphoria over prospects for cooperation has given way to greater caution. Trump repeatedly praised Russian President Vladimir Putin during the election campaign and said that he wants to cooperate with him in fighting terrorism. He's also embroiled in a deepening row regarding alleged Kremlin interference in the election that led to the Feb. 13 ouster of Michael Flynn as national security adviser.
While there've been "constructive" talks between Russian and U.S. military chiefs, Russia wants a meeting "soon" between Defense Minister Sergei Shoigu and his U.S. counterpart James Mattis, Fomin said. "We're ready for any format" of talks, he said.
'Real Threats'
In a departure from past denunciations by Moscow of even modest U.S. military buildups, Fomin said Russia isn't concerned about Trump's plan to boost defense spending by $54 billion. The proposed increase, which is greater than Russia's entire $49 billion defense budget in 2017, presents "no direct threat to us" and Trump "has the full right" to strengthen the U.S. military amid "real threats including terrorism, drug-trafficking and illegal migration," Fomin said.
"It doesn't mean that some sort of aggressive actions are being prepared against any particular state," Fomin said. There are also no reasons to be alarmed over air incidents between Russia and NATO, which are "negligibly low" considering the growing level of activity by military forces on both sides, he said.
Before it's here, it's on the Bloomberg Terminal.
LEARN MORE