politics
Malaysia to Charge Two Suspects With Murder of Kim Jong Nam
By
Half-brother of North Korean leader killed earlier this month

Preliminary report shows VX nerve agent used in murder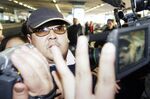 Malaysia will charge two female suspects on Wednesday with the murder of North Korean dictator Kim Jong Un's half-brother.
The women -- one Vietnamese and the other Indonesian -- will be charged in court under Section 302 of Malaysia's penal code, Attorney General Mohamed Apandi Ali said in a text message. That section of the code deals with murder and calls for the death penalty.
Malaysian police said a preliminary report showed that VX nerve agent was used in the murder of Kim Jong Nam -- the eldest son of late leader Kim Jong Il who was murdered in a Kuala Lumpur airport on Feb. 13.
A "high-level delegation" from North Korea arrived in Malaysia on Tuesday to discuss the return of the deceased's body, The Star reported, quoting a spokesman for the group. Ri Tong Il, a former North Korean ambassador to the United Nations, told journalists outside the nation's embassy in Kuala Lumpur that they would also discuss the release of a citizen arrested over the case.
Police have arrested four people linked to the murder, including the two women who allegedly carried out the attack. They are seeking four North Koreans whom they believe fled to Pyongyang on the day Kim Jong Nam was killed. 
The female suspects were trained to swipe the poison on the victim's face, and knew the substance was toxic, Inspector-General of Police Khalid Abu Bakar said last week, dismissing reports that they were involved in a television prank. They had practiced at a couple of shopping malls in Kuala Lumpur, and were instructed to wash their hands after the attack, he said.
South Korean government officials have speculated that Kim Jong Un was behind the killing of his half-brother, a critic of his leadership who had lived outside the country for years. Malaysian authorities also want to question a diplomat at the North Korean embassy in Kuala Lumpur, an employee at Air Koryo, and a North Korean living in Malaysia for three years.
(
Updates with report of North Korean delegation arriving in Malaysia in fourth paragraph.
)
Before it's here, it's on the Bloomberg Terminal.
LEARN MORE