Kay Jewelers' Owner Declines After Sexual-Harassment Allegations
By and
Documents released this week depict culture of harassment

Claims bring new headache to company after gem-swapping woes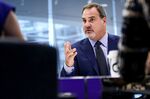 Signet Jewelers Ltd. suffered its worst stock decline in eight years following claims of gender discrimination and sexual harassment at the jewelry chain, including allegations that involved Chief Executive Officer Mark Light.
The allegations, which date back as far as the late 1990s, stem from a complaint filed in 2008 alleging that women were paid less than men doing the same jobs in the same places. Hundreds of pages of documents in the case were made public this week under an agreement between the two sides. The accord kept the names of those who are alleged to have taken part in the harassment confidential.
The Washington Post was first to report on the accusations, sending shares of Signet down 13 percent to $63.59 in New York trading. That was the biggest one-day decline for the stock since the recession was still underway in February 2009.
About 250 former employees of Signet's Sterling Jewelers unit -- both men and women -- have given statements in the lawsuit. They paint an image of a company that paid men more and kept women from advancing with a culture of harassment and discrimination. In February 2015, arbitrator Kathleen Roberts certified a class of about 69,000 current and former female employees in the case, allowing them to proceed in arbitration with claims that the company's pay and promotion practices had an adverse effect on saleswomen.
'Distorted' Reports
In response to the allegations, the company said that none of the 69,000 class members has brought claims for sexual harassment or sexual impropriety. The only claims certified to proceed are related to alleged unintentional gender pay and promotions discrimination, the retailer said, calling media reports on the matter "distorted and inaccurate." The Akron, Ohio-based company, which owns the Kay, Jared and Zales jewelry chains, didn't make Light available for an interview.
"We have thoroughly investigated the allegations and have concluded they are not substantiated by the facts and certainly do not reflect our culture," David Bouffard, a company spokesman, said in an e-mail. Signet has created career opportunities for female employees nationwide and has a framework in place to investigate allegations of misconduct, he said.
Sexual Favors
Among the documents released this week was an amended complaint from June 2008 that alleged that Light and other executives have had sex with female employees and conditioned the workers' success upon demands for sex. Light, then CEO of the Sterling division, was observed by multiple witnesses at company meetings being entertained by female managers "in various states of undress" in a swimming pool, according to the document.
Dozens of saleswomen in sworn statements detailed harassment at stores and at the company's annual managers' meeting, which was described as a drunken party where male managers preyed on female subordinates. In one example, a Pennsylvania saleswoman, who left the company in 2010, said a male manager pulled her onto his lap after a party and groped and fondled her.
The case brings another headache to a company that spent last year fending off allegations of diamond swapping at its stores. Stories in BuzzFeed and other publications said customers had their gems replaced with inferior stones while they were being serviced. Signet has said in response that it maintains rigorous product and service-quality procedures.
The latest accusations could hurt the company's reputation and sales, said Seema Shah, an analyst at Bloomberg Intelligence.
"Signet faces continued headline risk every time these types of reports are recirculated," she said. "Possible monetary costs would depend on if a claim is filed and/or there is a drawn-out lawsuit or settlement."
The company also may have to increase marketing spending to repair its reputation, she said.
Credit Business
Signet faces other woes, including an in-house credit business targeted for criticism by investors and analysts. They've raised concerns that the company relies too much on that part of its operations to fuel profit. Signet has been reviewing the credit business, which help customers finance their jewelry.
Signet shares had already fallen 23 percent this year before Tuesday's tumble.
Technical glitches also hampered Signet's website during the busy holiday season, contributing to a lower forecast. A decline in mall traffic, softness in the broader jewelry market and heavy promotions at department stores also weighed on results, the company has said. Signet plans to announce its fourth-quarter and annual results on March 9.
Before it's here, it's on the Bloomberg Terminal.
LEARN MORE