Hammond May Swap BOE Inflation Measure Next Week, Says Goldman Sachs
By
Statistics office to make CPIH key inflation index from March

Treasury says there are no plans to change central bank target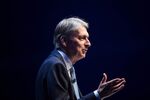 U.K. Chancellor of the Exchequer Philip Hammond may switch the measure of inflation the Bank of England targets to one that includes housing, according to Goldman Sachs Group Inc.
The Office for National Statistics is making CPIH -- the consumer prices index including owner-occupiers' housing costs -- its favored gauge of inflation from March 21. The BOE uses the current preferred measure, CPI, to set monetary policy, targeting an inflation rate of 2 percent. Goldman economist Andrew Benito said in a note to clients dated Monday that it was "more likely than not" that Hammond will announce a switch to the new index, and a change could come as soon as the Budget on March 8.
The Treasury said the CPIH is not currently a "national statistic" and there are no plans to change the BOE's inflation target.

Switching to CPIH will provide a more accurate gauge of the prices that people face and simplify the current plethora of different inflation gauges, the U.K.'s chief statistician, John Pullinger, said last year. Any move would probably mean the BOE has to incorporate the housing market into its deliberations and forecasts much more than it does currently.
Other areas that may be affected include welfare payments, tax thresholds and the government's "triple-lock" rule on pensions, which guarantees increases in line with prices, earnings or 2.5 percent, whichever is highest, according to Oxford Economics economist Andrew Goodwin.
However, the impact on monetary policy of switching from CPI to CPIH "should be fairly small" as the two measures usually track one another very closely, Goodwin said. The latest data put CPI inflation at 1.8 percent in January, while price growth based on CPIH was 2 percent.
The chancellor must define what the BOE has to do in terms of price stability at least once a year, with the remit letter to the central bank's Monetary Policy Committee usually being published at the government's spring Budget.
Official Status
CPIH does not have the designation as a national statistic after the measure was stripped of the status in 2014 over concerns about the quality of some of its data sources. The Statistics Authority is assessing whether improvements made by the ONS mean that decision can be reversed.
The BOE has previously said that owned-housing costs represent an important element of household expenditure, and once issues surrounding CPIH had been resolved and it had a proven track record, "there is a strong case for its becoming the main measure of inflation."
The index includes costs associated with owning a home such as mortgage payments, dwelling insurance, estate agents' fees and maintenance and renovation costs.