business
Dimon Says U.S. Future 'Very Bright' If Trump Can Enact Reforms
By and
CEO shifts focus to taxes, rules after supporting immigration

'You hear the horror stories of how long it takes to build'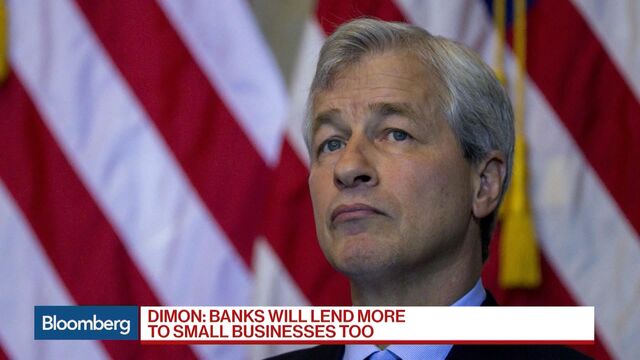 JPMorgan Chase & Co. Chief Executive Officer Jamie Dimon expressed broad optimism for U.S. growth and his own industry if Donald Trump's administration succeeds in reshaping taxes and regulation. Still, he said, international crises could pose risks.
Addressing investors in New York on Tuesday, Dimon predicted banks will lend more to small businesses, and that employers will raise wages and lure millions of people back into the job market, if the government eases rules and cuts corporate taxes. The nation's biggest lenders are strong and poised to expand operations into more countries, he said.
"The future is very bright," said Dimon, who is both CEO and chairman of the nation's biggest bank. "If you have tax reform, regulatory reform, infrastructure reform, I believe you could see the United States growing much faster." He said he joined a panel of business leaders advising the president because "the U.S. needs better policy."
Read More: Trump turns to Dimon, Schwarzman for policy advice
The embrace marked a shift from October, before the election, when Dimon signaled disagreement with Trump's comments on immigration and Muslims. At the time, the banker emphasized that all people are "completely welcome" at JPMorgan, mentioned his Greek grandparents, and set off loud applause by subtly predicting Americans were about to elect the first woman to the presidency. Those topics didn't arise on Tuesday.
Instead, Dimon echoed Trump's frustrations with a maze of regulations that hold back business investments and infrastructure projects.
"Do you know that this country hasn't built an airport for 40 years?" Dimon asked. "We haven't put a tunnel or a bridge in New York City for I think maybe even longer than that. You hear the horror stories of how long it takes to build a highway, a road, a grid, a tunnel, an airport."
Potential Dangers
Asked about risks to JPMorgan or growth, Dimon pointed to potential international crises and trade conflicts. Rarely are such issues disruptive enough to cause contractions, he said, but North Korea could theoretically get "pretty bad." As for possible trade disruptions, he thinks it's all about China, not so much Mexico.
He signaled less worry about dangers lurking within the industry. While more people may default on student loans, that pool of outstanding debt is dwarfed by the bad mortgages that caused the 2008 financial crisis, and many losses would be absorbed by the government, he said.
And, overall, U.S. consumers are healthy and credit quality remains very high, he said.
"I mean, literally, look at the numbers: It's never been better," he said. Then he added: "Ever, ever, ever, ever, ever, ever, ever, ever, ever, ever, ever, ever, ever, ever."
Before it's here, it's on the Bloomberg Terminal.
LEARN MORE