Bush Promotes New Book, Reflects on Painting And the Press
THE ASSOCIATED PRESS (HILLEL ITALIE)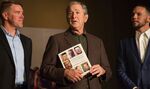 New York (AP) -- Former President George W. Bush says he didn't intend to criticize President Donald Trump when he said recently that a free press is essential to democracy
Speaking by telephone Tuesday with The Associated Press, Bush said he was simply responding to a reporter's question about the role of journalism. Trump has referred to the press as the "enemy of the people," but Bush said Tuesday that it's important to hold people in power "to account." He called his own relationship with the media "symbiotic," with the media needing a story and the president needing to get his message out.

Bush is promoting his new book, "Portraits of Courage," a volume of his paintings of military veterans. The book, officially published Tuesday, is No. 1 on Amazon.com.

Quotes from this Article
Before it's here, it's on the Bloomberg Terminal.
LEARN MORE