business
Mom and Pop Investors Are Behind This Historic Market Rally
By and
Retail more bullish than institutional money: JPMorgan Chase

Rise in passive investing may explain end-of-day trading surge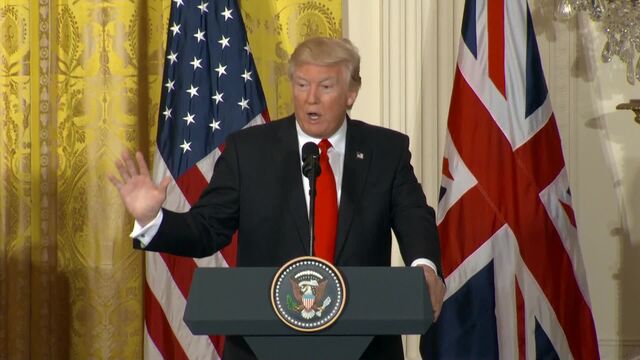 You can thank the little guy for Dow 20,000.
That's the takeaway from data tracking money flows into and out of stocks, according to an analysis by JPMorgan Chase & Co.
The telltale sign retail investors are behind the longest string of U.S. stock highs in decades? An $83 billion surge of cash into passive strategies so far this year amid a $15 billion withdrawal from actively managed funds. That's on top of evidence that institutional traders have backed away, the bank says.
"Investors are normalizing their equity fund buying; this is a return to normal," Nikolaos Panigirtzoglou, global market strategist at the U.S. bank, said in a phone interview.

After years of snubbing the asset class in favor of fixed income, retail investors are showing pent-up demand for stocks amid an escalation in risk-taking and projections for economic growth since the November election.
From the $86 billion plowed into equity exchange-trade funds so far this year, Panigirtzoglou and team calculate that 2017 as a whole may see equity funds absorb a net $442 billion of new retail-driven money if the year-to-date pace is sustained. That would be almost six times larger than last year's volume, according to JP Morgan.
On the other hand, institutional investors from risk-parity to mutual fund managers have decreased their exposure to the equities, the team concludes from assessing various active managers' returns -- another sign that the flows to passive strategies are likely dominated by retail investors.
So far this year, three of the four ETFs with the biggest inflows are those tracking American shares, according to data compiled by Bloomberg. Vanguard's S&P 500 fund has seen $3 billion in inflows alone, while two iShares funds tracking small and mid-sized companies have brought in a combined $5.5 billion.
The strengthening retail-driven bid isn't only propelling stocks higher -- it's reshaping the outlook for daily liquidity.
A spate of end-of-day fluctuations in the S&P 500 Index recently is probably a knock-on effect of the rush into passive funds, whose managers rebalance their exposures daily to absorb new inflows, Panigirtzoglou reckons.
For the second time in two weeks, a final-hour ramp in the S&P 500 turned the index green for bulls on Friday, as the benchmark equity gauge jumped 6 points in a little more than 30 minutes to close higher -- mirroring a similar move exactly one week prior. In both instances, volume on the SPDR S&P 500 ETF was at least 50 percent higher than the 30-day average in the final 15 minutes, according to data compiled by Bloomberg.

"Because these passive funds rebalance flow at the end of the day, it's in the last 15 minutes of the trading session," the JPMorgan strategist explains. "Hedge funds and active funds try to avoid that. The growth of passive funds is exacerbating the end-of-day liquidity phenomenon."
Before it's here, it's on the Bloomberg Terminal.
LEARN MORE