A Big Dutch Populist Win May Swell Election Risk on French Bonds
By
Big win for anti-EU party to hurt France, periphery: Deutsche

Dutch banks are highly exposed to French assets, says BofAML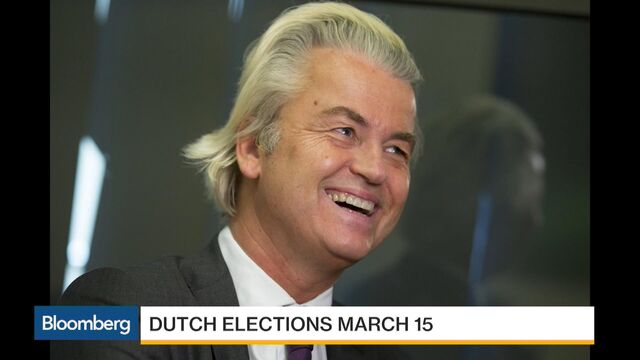 France's bonds may suffer the most if there is a greater-than-expected populist election victory in Netherlands in March, one month before the country's own presidential vote.
The French securities have recovered in February after falling in recent months, as anti-euro candidate Marine Le Pen leads polls for a first round in April but is seeing fading momentum in surveys for a second-round runoff in May. The anti-EU Dutch Freedom Party, or PVV, is forecast in polls to become the largest in parliament and a big victory would again unsettle nerves among investors in euro-area government bonds.
"The stronger the populist support, the more the market will react," London-based economists at Deutsche Bank including Mark Wall said in a note. "The markets most affected in the short run by a PVV surprise could be France, with its presidential election later this spring, and the periphery if fears of a systemic euro crisis were to increase."

The yield on 10-year French bonds has fallen 17 basis points this month to 0.87 percent, paring this year's increase to about 18 basis points. Meanwhile the German two-year bond yield has dropped more than 20 basis points in February to a record low on demand for havens, on worries about the potential for a breakup of the euro.
Populist Wave
The polls for the Dutch and French elections reflect a wave of political populism growing across the region, building on results in the U.K. and Italian referendums last year. A sweeping victory for populists in the Netherlands may boost those in elections in France, Germany and possibly Italy this year, put short-term pressure on the euro and on bonds of other euro-area countries, according to UBS Group AG economists including Ricardo Garcia.
"The market is likely to regard the election result as an important test of euro skepticism ahead of the French elections," Wilson Chin, London-based strategist at HSBC Holdings Plc, wrote in a note to clients. A result that signals higher support for euro-skeptic parties "would increase systemic risk and would indirectly widen spreads between Germany on the one hand and countries like Finland, Austria as well as the Netherlands on the other."
Dutch bonds have been relatively calm amid the political risks buffeting the rest of Europe's debt, though are also likely to be affected by any spillover from the elections. The nation's lenders have almost twice the exposure of Germany to France relative to bank assets, according to Bank of America Merrill Lynch.

"The Netherlands, being a small and open economy, and the Dutch financial system being highly exposed to France, suggests a higher risk premium may be needed for holding Dutch sovereign debt," Sphia Salim, London-based strategist at Bank of America Merrill Lynch, wrote in a note to clients. "We believe a 'Frexit' would put pressure on bank credit risk and Dutch sovereign CDS."
Before it's here, it's on the Bloomberg Terminal.
LEARN MORE