Your Evening Briefing
Bloomberg News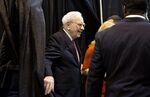 Warren Buffett has once again launched an attack on hedge funds, estimating investors have wasted more than $100 billion on high-fee Wall Street money managers during the past 10 years. The alternative? Both large and small investors should stick with low-cost index funds, he wrote in his annual letter to shareholders. And when Buffett speaks, people listen. His sweeping endorsement of index investing is sure to sting the hedge-fund industry and encourage the stampede into assets that passively track the market. —Alex Millson
China's rare spat with Kim Jong Un highlights the difficulties in convincing him to give up his nuke program. While Beijing has backed the Kim dynasty since the two countries fought alongside each other in the Korean War, its ability to broker negotiations is backfiring for one simple reason: Kim is confident that China doesn't want to see his regime toppled.
Hong Kong's home prices reach an all-time high. Attempts by the city's leaders to tame its surging property market with new taxes are being thwarted by surging demand. The curbs also had the unintended effect of stoking demand for newly built homes.
A trade war with China could backfire on the U.S. For a cautionary tale on how Trump going into battle against Beijing could play out, look no further than the case of REC Silicon ASA. After the U.S. slapped duties on Chinese solar panels in 2011, China shot back with measures against the American polysilicon exports to make the units. REC Silicon and other makers were clobbered as orders plunged. Everyone lost out.
Trump proposes "massive budget request for our beloved military." While U.S. defense spending is likely to rise, the president will look to make big savings with cuts to the Environmental Protection Agency. Too many regulations, Trump argues, burden companies and cause long delays for businesses trying to get new factories approved.
Arrows start to fly at the world's central bankers. As populism tightens its grip in the U.S., Europe and other parts of the world, there are few targets as ripe for political assault as the institutions stuffed with unelected technocrats wielding the power to affect the economic fate of millions.
Samsung teases the release of the Galaxy S8. The South Korean smartphone giant hopes its latest offering, likely to feature an all-screen front with no physical home button, will wipe out memories of the killed-off Note 7, pulled from shelves after reports of handset fires. Meanwhile, Finnish firm HMD has unveiled a redesign of the classic Nokia 3310. And for those old enough to care, Snake is still there.
Ten truly remote places where your boss can't track you down. If you're craving a bit of genuine peace and quiet, with no Wi-Fi, mobile-phone reception or even many other people, this is the list for you.

Before it's here, it's on the Bloomberg Terminal.
LEARN MORE