Five Things You Need to Know to Start Your Day
Get caught up on what's moving markets.
By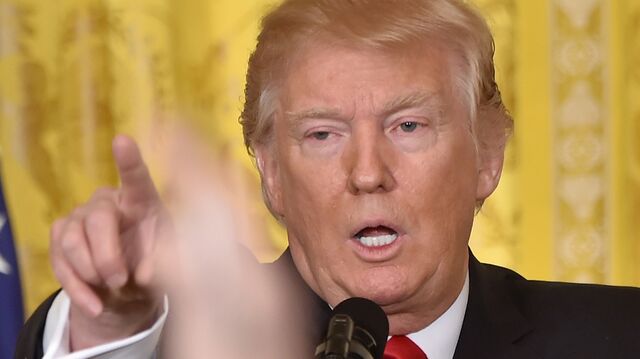 Want to receive this post in your inbox every morning? Sign up here.
Trump's proposed budget is set to hike defense spending, new election polls boost French bonds, and the potential for a new Scottish independence referendum is hitting the pound. Here are some of the things people in markets are talking about today.
Trump's budget
President Donald Trump's proposed budget will include a major increase in defense spending and big cuts in funding to federal agencies, including the Environmental Protection Agency, according to a person familiar with the plan. Treasury Secretary Steven Mnuchin said in an interview broadcast on Sunday that programs such as Social Security or Medicare would not be touched. The president, who is due to address a joint session of Congress tomorrow, suffered another nomination setback yesterday when his pick for Secretary of the Navy withdrew for personal and business reasons. 
Macron rally
Independent French presidential candidate Emmanuel Macron narrowed the gap with the National Front's Marine Le Pen and increased his lead over Republican Francois Fillon in the latest polls for the French election. Both surveys published over the weekend show Le Pen losing to either Macro or Fillon in the second round. The nation's bonds are continuing the rally that started after Francois Bayrou's endorsement of Macron last week, with the 10-year yielding 0.888 percent by 5:10 a.m Eastern Time.
Scottish referendum?
The pound dipped below $1.24 in early trading after reports in Sunday papers said that U.K. Prime Minister Theresa May's team is preparing for the possibility that Scotland calls a second independence referendum. May is also facing a battle closer to home as the bill to allow her to trigger the start of the U.K.'s exit negotiations is set to be reviewed by the House of Lords this week, which would force a second vote in parliament, most likely during the week of March 13. 
Markets slip
Overnight, the MSCI AC Asia Pacific Index dropped 0.6 percent while Japan's Topix index fell 1 percent, with banks and exporters leading the drop despite the yen remaining little changed against the dollar. In Europe, the Stoxx 600 Index was 0.2 percent lower at 5:33 a.m. Italy's second-largest bank, Intesa Sanpaolo SpA, climbed more than 5 percent after abandoning the idea of a merger with Assicurazioni Generali SpA. U.S. stock futures were also losing ground. 
Bonuses cut
Deutsche Bank AG has cut its 2016 bonus pool by almost 80 percent, a measure that will affect about 25,000 employees at the bank. Shares in the lender were 0.5 percent higher this morning after the size of the bonus cut was revealed by Chief Administrative Officer Karl von Rohr in an interview published in Frankfurter Allgemeine Sonntagszeitung yesterday. Corporate bonuses are becoming a campaign issue in the German election as the Social Democrats are proposing curbs to manager compensation. 
What we've been reading 
This is what's caught our eye over the weekend.