technology
SoftBank Said to Be in Talks to Combine OneWeb With Intelsat
By , , and
OneWeb also said to be in talks with SES, Inmarsat, Telesat

Intelsat deal could provide complementary service, lower costs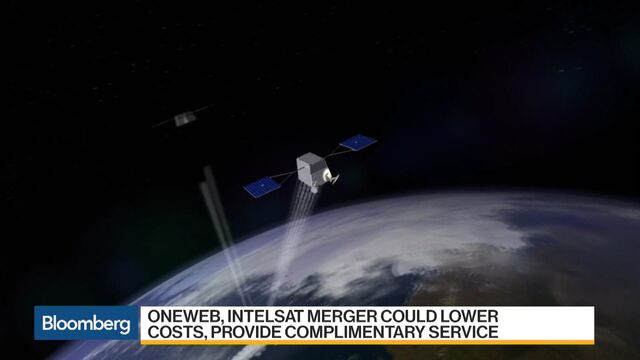 SoftBank Group Corp., the technology giant controlled by billionaire Masayoshi Son, is in talks to merge the satellite startup it's backing, OneWeb Ltd., with satellite provider Intelsat SA, according to people familiar with the matter.
A deal is conditioned on setting aside money to purchase Intelsat bonds from investors at a price higher than their trading prices last week, though that would still be below par value, said the people, who asked not to be identified discussing private information.
The pact, potentially valued at $10 billion to $14 billion, would allow OneWeb and Intelsat to save on costs as they seek to develop connections that can deliver video and broadband services anywhere in the world, including its less-developed parts. Intelsat operates a combined satellite-terrestrial communications network, while OneWeb is developing small, low Earth-orbiting satellites.
Though the transaction would be valued at about $18 billion if Intelsat's bonds were acquired at 100 cents on the dollar, SoftBank aims to pay about a bit more than half the debt's face value, one of the people said. If an agreement is reached, the valuation would likely fall to between $10 billion and $14 billion, the person said.
Yesterday's bond movement has made a deal less likely to occur because the offer price is now lower than where the bonds are trading, said the people. Intelsat's $2 billion of 7.75 percent notes due 2021 jumped more than 15 cents to trade as high as 61 cents on the dollar Monday, the biggest jump since 2014, according to Trace, the bond-price reporting system of the Financial Industry Regulatory Authority. The bonds were quoted below 20 cents in July.
Other Targets?
OneWeb has also held discussions with SES SA, Inmarsat Plc and Telesat Holdings Inc., the people said. Intelsat and SES declined to comment, and OneWeb and the other companies didn't immediately return requests for comment.
Shares of Inmarsat gained 2.7 percent to 718 pence at 9:45 a.m. in London, while SES advanced 1.9 percent to 19.67 euros in Paris.
Intelsat and OneWeb have complementary radio-frequency licenses that they could use to better to provide internet access on airplanes, among other markets, said Andrew Spinola, an analyst at Wells Fargo & Co., in a research note. The companies already are working with Gogo Inc. on such a service, he said.
"Intelsat's a highly leveraged company," said Bloomberg Intelligence analyst Steve Flynn. "The capital structure was definitely under a lot of stress, so any transaction with capital infusion would likely be a positive."
Intelsat bondholders saw their securities gain more than $660 million after reports of SoftBank's interest in a deal. Nine of Intelsat's bonds maturing over the next seven years traded at a market value of around $10.2 billion on Monday, up from about $9.6 billion on Friday, according to data compiled by Bloomberg.
Poorer Areas
OneWeb is the latest creation of Greg Wyler, who has spent more than a decade trying to connect poorer, less-developed parts of the world to the internet. He hopes to launch a constellation of satellites that will extend the networks of mobile operators and internet service providers to serve new coverage areas at a lower cost.
The company raised $1.2 billion from Tokyo-based SoftBank and other investors in December. The funding was designed to help develop small satellites and pay for the construction of a facility in Florida that will churn out 15 of the devices a week, according to OneWeb, based at Exploration Park, Florida, an area near Kennedy Space Center.
Son, the chief executive officer of SoftBank, has been on a tear of big investments, including the $32 billion acquisition of chip designer ARM Holdings Plc and the creation of the $100 billion Vision Fund with Saudi Arabia and other backers. Tokyo-based SoftBank is also one of Japan's biggest wireless providers and controls Sprint Corp., the fourth-biggest wireless company in the U.S. SoftBank shares were little changed in Tokyo on Tuesday.
— With assistance by Laura J Keller
Before it's here, it's on the Bloomberg Terminal.
LEARN MORE