markets
Topix Marks Longest Losing Streak for 2017 Ahead of Trump Speech
By and
Investors nervous tax plan may disappoint: Okasan Securities

Japan stocks hit by recent yen strength, declining bond yields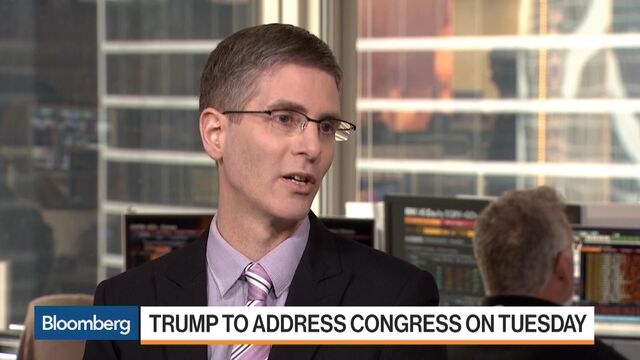 Investors in Japanese equities opted to shun risk ahead of a speech by U.S. President Donald Trump that may provide clues on his plans to cut taxes.
The Topix index slipped for a third day, recording its longest losing streak so far this year, as some market players scaled back bets on how high U.S. yields will rise and how low the yen will go. The gauge was down 1 percent to 1,534 at the close in Tokyo, with banks and exporters of electronics and cars the biggest drags.
Trump, who is scheduled to address Congress on Tuesday, will propose a budget that seeks to produce long-term economic growth by slashing taxes, Treasury Secretary Steven Mnuchin said. Equity markets across the world were bolstered earlier this month when Trump said he plans to unveil a "phenomenal" tax plan.
"Investors are now worried Trump's 'phenomenal' tax plan won't be something that beats market expectations," said Shinichi Yamamoto, a senior strategist at Okasan Securities Co. in Tokyo. "Sentiment is jittery over the odds of Trump's fiscal budget falling short of what's hoped for."

The yen held onto most of its recent gains during Tokyo hours Monday, exchanging hands at around 112.10 per dollar. The currency has strengthened about 1.4 percent over the past four sessions. U.S. Treasuries surged at the end last week, sending the 30-year yield below 3 percent and the 10-year yield toward its lowest closing level since November.
Summary
Nikkei 225 -0.9% to 19,107.47, falling for a fourth day, its longest streak of declines since July
Banks weighed most heavily on the Topix with Mitsubishi UFJ Financial -2.6%, Sumitomo Mitsui Financial -2%
Oil producers Inpex -2.9%, Japan Petroleum Exploration -1.7%
Mitsubishi Electric -2.3% after downgrade to sell from neutral at Goldman
Toto +2.2% after raised to buy from neutral at Citi
Before it's here, it's on the Bloomberg Terminal.
LEARN MORE