Ex-Premier Major Warns May She Can't Deliver Brexit Promises
By
Major says 'Remain' supporters being treated with 'contempt'

Says May's Brexit pledges are 'unreal and overoptimistic'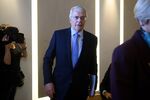 Former U.K. Prime Minister John Major attacked Theresa May's Brexit strategy, warning that she's making undeliverable promises and should prepare people for the compromises that will come out of her negotiations.
In a speech in London, his first on Brexit since last year's referendum on European Union membership, Major accused the victors of treating the losers with "a disregard that amounts to contempt." And he said some Brexit-supporting lawmakers are "acting against their own principles" by trying to stop Parliament having a "meaningful role" in overseeing negotiations.
But his strongest words were reserved for May and her government, who he said aren't being honest with the public about what can be delivered from the coming talks on a post-Brexit deal with the EU. In areas from reducing immigration to negotiating free trade to paying into the bloc's budget, he said, voters faces disappointment.
"The British people have been led to expect a future that seems to be unreal and over-optimistic," Major said on Monday. "Obstacles are brushed aside as of no consequence, whilst opportunities are inflated beyond any reasonable expectation of delivery."
Europe Disputes
Major, who was prime minister from 1990 to 1997, saw his own time in office overshadowed by disputes within his -- and May's -- Conservative Party about Europe. He was skeptical about the negotiating approach of many of those who wish to leave the EU.
"Negotiations are all about give and take," he said. "We know what the Brexiteers wish to take, yet we hear nothing about what our country may have to give in return. If anyone genuinely believes that Europe will concede all we wish for -- and exact no price for doing so -- then they are extraordinarily naive."
Major said that May's plan to secure a Brexit deal within two years is "very, very optimistic." He said he expects a transitional accord will probably be necessary.
He warned the prime minister against trusting too much in her relationship with Donald Trump, a president he described as "less predictable, less reliable and less attuned to our free-market and socially liberal instincts than any of his predecessors."
'Face Down'
And he told May that while she has the backing of the Euro-skeptic wing of her party now, she won't be able to keep it for ever. "Her policy to maintain a good relationship with Europe is surely right," he said. "But, at some time, she will have to face down those who favor total disengagement -- and who have never accepted our role within Europe."
Iain Duncan Smith, a cheerleader for Brexit and a Conservative former cabinet minister who sparred with Major over Europe when he was in office, accused the former prime minister of being "bitter and angry." Major had himself tried to "shout down" opposition to the EU's Maastricht treaty 25 years ago, Duncan Smith said.
"A little bit of humility in this matter might not be a bad thing," Duncan Smith told BBC TV's 'Newsnight' show on Monday evening. It was "almost the speech of someone who simply refuses to accept that the British people made the decision that they did and wants them to rerun it until they get it right, which is rather sad really."
Blair Appeal
Major's intervention comes less than two weeks after the man who defeated him in 1997, Tony Blair, urged those who support EU membership to fight for their position. 
Their speeches may reflect frustration that the case for softening Brexit -- or indeed even seeking to stay in the bloc -- isn't being made strongly within Parliament. Most of the Conservative Party has swung behind May to back Brexit. The opposition Labour Party, meanwhile, is struggling to define its position.
Among the areas Major highlighted where he said voters are likely to be disappointed was contributions to the EU budget. He was dismissive of those who have said Britain can simply stop paying -- "when you leave any club, you are obliged to settle your debts," he said -- and pointed out that there was no discussion of this even in the government's recent document setting out its Brexit policy.
'Very Unpalatable'
"The bill will be substantial: billions, not millions, and very unpalatable," he said. "It will come as a nasty shock to voters who were not forewarned of this."
Major warned that mishandling Brexit "will encourage a second referendum on independence" in Scotland, a threat that May would be "reckless" to ignore. And he argued that a return of border controls between Northern Ireland and the Irish Republic would risk damaging the "fragile" peace process there.
Asked if he saw any possibility of a second referendum on Brexit, Major said he thought one is unlikely "at this stage" and that if one ever happened, it would be a long way off. "Let us see how public opinion changes," he said.