ESPN's 'SportsCenter' Gives Way to Serious Films and an Oscar Win
By
Network plans podcast, series on limits of human performance

Ascent of '30 for 30' co-creator reflects channel's strategy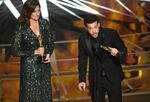 On stage in front of the biggest movie stars in the world, documentary filmmaker Ezra Edelman clutched his first Oscar and thanked a fellow newcomer to the Hollywood awards circuit: ESPN.
The network best known for live sports and highlights won its first Academy Award Sunday night for Edelman's "O.J.: Made in America,'' a five-part documentary about disgraced football player O.J. Simpson. It could be the first of many. ESPN, owned by Walt Disney Co., has assembled an ambitious pipeline for non-fiction programming, part of a move by cable channels and streaming-video providers to stand out in a crowded marketplace.
ESPN is about to unveil a new documentary podcast series, and will produce a new multi-part program from Oscar winner Alex Gibney about the limits of human performance and what motivates people to push those limits, legally or illegally. What began as "30 for 30" -- a one-off documentary series commemorating ESPN's 30th anniversary in 2009 -- has morphed into a pillar of the most-watched cable network's programming strategy.
"It is harder to break through, and we are trying to figure out those places where'' the network can, said Connor Schell, executive producer of the O.J. movie and co-creator of ESPN's "30 for 30" film series. "We tried to conceive ESPN Films and '30 for 30' as a reaction to what wasn't happening in the market -- what we as sports fans wanted to see and wasn't being seen.''
With highlights and scores available to everyone with a mobile device, ESPN is devoting more of its schedule to talk shows and analysis hosted by its biggest talent. Documentaries, meanwhile, fortify the network against new online players and against cable providers looking to squeeze sports networks out of their basic packages. As more viewers watch TV on-demand, documentaries give ESPN programming that, unlike live sports or insta-punditry, retains its appeal over time.
That's a big reason Netflix Inc. and other streaming services have funded so many documentaries -- "O.J.: Made in America" beat Netflix's "13th" in the feature documentary category Sunday night, and Netflix's "The White Helmets" won for documentary short. Also getting into the act are cable networks like Viacom Inc.'s BET, which got buzz for recent films about Nelson Mandela and the R&B group New Edition.
Documentaries "have become a critical part of ESPN's overall brand promise,'' according to Burke Magnus, who oversees scheduling and the acquisition of all rights for the network. The shows are now one of the pillars of ESPN, alongside live sports and information, Magnus said. "You will see us be more aggressive with programming like this, which is a compliment to live sports.'''
The focus on documentaries has contributed to Schell's swift rise up the ranks at the sports network. A former journalist with a degree from Columbia University's business school, Schell joined ESPN in 2004 when it was searching for new sources of programming. He worked in the division of the company that birthed popular day-time programs "Pardon the Interruption'' and "Around the Horn."
Yet ESPN's film business consisted of a few "made-for-TV'' movies -- an appellation that used to signify lower quality. In the lead-up to ESPN's 30th anniversary, Schell and prominent sportswriter Bill Simmons hatched an idea for a series of sports documentaries made by accomplished directors. The project, eventually dubbed "30 for 30,'' would establish a freewheeling new style in sports documentaries.
Oscar-winning directors, movie stars and unheralded young filmmakers all contributed films. Some directors inserted themselves into the story, some employed lots of archival footage, and others focused more on interviews with the subject. Topics ranged from a look back at the University of Michigan's Fab Five basketball team to the rise and fall of Colombian soccer at the height of the nation's drug wars. Viewers, critics and filmmakers all took notice.
"Before that, series had to be unified in style,'' said Gibney, who has made documentaries about the church of Scientology, Lance Armstrong and infamous Chicago Cubs fan Steve Bartman. "They were free to break that model, and focused on stories with sometimes very tangential relationships to sports.''
The rabid reaction convinced ESPN to push even further with a series just about soccer, for which Edelman made a movie. Schell, meanwhile, now oversees all programming that isn't a live event or a highlight show. That includes film and opinion shows like "PTI'' and "Around the Horn.'' He also oversees ESPN's NBA studio shows and talent relations, and is on the hunt for a new morning show that will replace "SportsCenter.'' ESPN is in the middle of its third volume of "30 for 30" films, most recently with a look at the ill-fated XFL football league.
"Connor has been at the center of any number of creative enterprises, from co-creating '30 for 30' to developing content for The Walt Disney Company through the ESPN Films group," said John Skipper, president of the network. "ESPN is part of the entertainment landscape in a way many wouldn't have expected, and he has been instrumental in all of that."