Dollar Erases Loss Before Trump Speech to Congress; Yen Tumbles
By
President suggests no early stimulus before health-care fix

Heavy event risk this week culminates with Yellen on Friday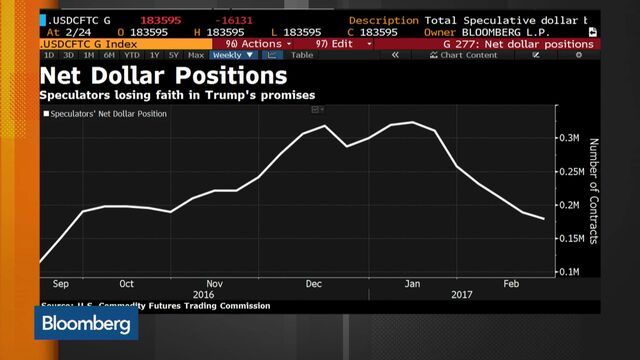 The dollar shrugged off early losses to trade higher for a second straight day after a rise in 10-year Treasury yields underpinned the greenback against the yen. Traders tweaked positions ahead of month-end and President Trump's speech Tuesday.
With traders hanging on to the president's every word to gauge the scope and timing of fiscal stimulus, his remarks today that a tax plan may not come until more work is done on health-care reform dimmed expectations for a quick boost to the economy, sending the dollar to its low of the day. Dollar-yen fell briefly below 112.00 before rebounding to 112.84 as Treasury yields spiked, with odds of a March rate hike rising above 50% after Federal Reserve Bank of Dallas President Robert Kaplan said the central bank shouldn't pay excessive attention to market expectations.

Traders seem to not like the dollar when Trump speaks, as the president rarely offers specific details about the potential for his policies to support reflation, one trader in Toronto explained; dollar-yen is seen by some as one of the cleanest proxies to trade reflation prospects, sidestepping euro area political risk that has weighed on the shared currency in recent weeks. Still, dollar-yen may be flawed by the Japanese currency's status as a haven in times of market stress and by the pair's heightened sensitivity to swings in Treasury yields, a point well illustrated by today's trading
At the same time, conviction on positions remains low, keeping flows muted as traders try to stay agile ahead of unusually heavy event risk this week that also includes a revision to 4Q GDP data on Tuesday and speeches by Federal Reserve chair Janet Yellen and Fed Vice Chair Stanley Fischer, who both speak Friday
EUR/USD rose to fresh high at 1.0631 before falling back under 1.0600 as the dollar picked up with the rise in Treasury yields, extending gains beyond the overnight high at 1.0592 and filling offers and stops ~1.0620, traders said; EUR eclipsed technical resistance at the 55-DMA at 1.0593 but remained below last week's high ~1.0635
EUR is expected to find option-related bids near 1.0550 after that interest cushioned the pair overnight
GBP/USD pared its steep overnight drop seen after press reports rehashed the potential for a Scottish referendum announcement around the time that PM May invokes Article 50 that will begin the Brexit process; there's no upside to May granting a referendum during this parliament, said Gavin Friend, London-based markets strategist at NAB
GBP rose as high as 1.2474 as intraday offers and stops were filled, before falling again into losing territory; GBP dropped overnight to 1.2384, briefly below its converged 55/100-DMAs ~1.2405
Before it's here, it's on the Bloomberg Terminal.
LEARN MORE