Deutsche Telekom CEO Makes Case for Unified Approach to 5G
By and
Hoettges says European authorities should allow more M&A

Consolidation would ignite wireless investment, Hoettges says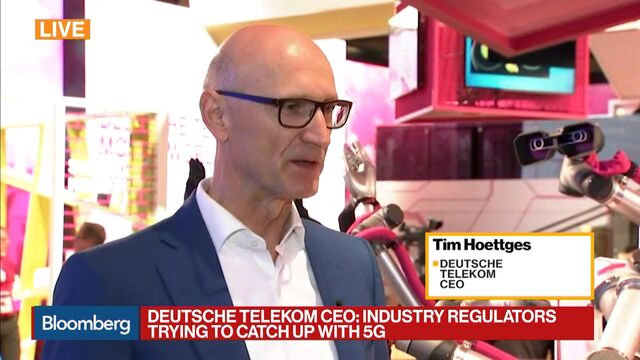 Deutsche Telekom AG Chief Executive Officer Tim Hoettges called on European telecommunications regulators to allow more industry consolidation, and asked authorities to ease the transition to a fifth generation of wireless services that would spur growth.
Europe is "a quite difficult ecosystem" for M&A, Hoettges said in a Bloomberg Television interview in Barcelona, where he is attending Mobile World Congress this week. "If we would be enabled to consolidate more in the European market, there would be another reignition of investments for our industry."
The comments from Hoettges, who heads Europe's biggest phone company by market value, underscore a push by carriers and their suppliers to accelerate a the arrival of 5G -- technology that would greatly increase the reach and reliability of wireless networks, allowing millions more devices to be connected online. It would enable speedy downloads of ultra high-definition movies and remote maintenance of machinery in the field, along with long-distance surgery and more widespread use of autonomous vehicles.
Companies including carriers AT&T Inc. and SK Telecom Co., handset maker LG Electronics Inc. and equipment maker Ericsson AB have signed on to an effort to get standards for 5G done in time for commercial deployment in 2019, a year ahead of schedule. The GSMA lobby group expects 1.1 billion 5G connections by 2025, it said Monday in Barcelona.
For the full Bloomberg Television interview of Hoettges click here
Hoettges' comments were echoed by Bharti Airtel Chairman Sunil Bharti Mittal, who said regulators around the world must let carriers merge to enable growth and allow companies to invest in infrastructure.
Regulators need to "recalibrate their mind" to allow the number of telecoms carriers to decline in markets including India, Africa, Europe and the U.S., Bharti Mittal said in Barcelona. While spectrum is still very expensive, taxes on carriers remain high, he said.
Next Step
Ericsson CEO Borje Ekholm said that while 5G services aren't commercially deployed yet, the company's carrier customers are positioning their existing 4G networks and starting to evolve into 5G. The company has signed agreements with more than 30 carriers to work on 5G and that the next step is trials.
"5G goes beyond the regular operator business," Ekholm said at an analyst and media briefing. "It's a business revolution and I think it's a way for our customers to increase their relevance yet again."
The biggest obstacles to 5G's development are the availability of spectrum and the development of common standards, Hoettges said. He termed the process "political" and said it had gone more slowly than in earlier generations of networks.
"We need the same standards in all our markets where we operate," Hoettges said. "The U.S. is a very liberalized market in this way, so it is much better to operate there, I think it's easier for the networks to get built. So I think the U.S. model is a good model for the world."
In the U.S., where phone carriers have tried to merge with content players, deals may be aided by looser regulation under President Donald Trump after being held back by the Obama administration. In Europe, authorities have suggested they're willing to allow mergers that increase competition or better position the region's companies against overseas rivals.
Hoettges faces a decision this year on whether to raise Deutsche Telekom's 12 percent stake in U.K.-based BT Group Plc. He said he was "quite concerned" about developments there that recently caused BT's shares to drop.
He declined to comment on speculation that Deutsche Telekom's majority-owned U.S. unit, T-Mobile US Inc., plans to merge with Softbank Group Corp.'s Sprint Corp. He said U.S. spectrum auctions prevent him from such discussions.