markets
Saudi Arabia Sees Growing Foreign Interest as New Market Opens
By and
Regulator cites increase in applications from foreign firms

Longer settlement cycle seen taking effect ahead of schedule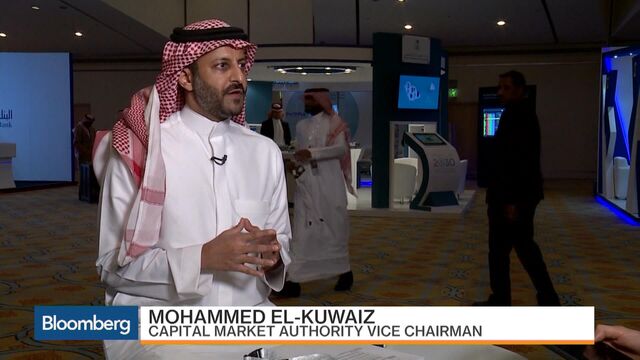 Saudi Arabia is counting on rules that will extend the settlement cycle on stock trades to attract more foreign investors, Capital Market Authority Vice Chairman Mohammed El-Kuwaiz said.
The Tadawul stock exchange has about 50 qualified foreign investors and expects to draw more after shifting to a T+2 cycle by the end of June, a system used across most major exchanges, El-Kuwaiz said in an interview with Bloomberg News. The current system requires same-day settlement.
"A lot of financial advisers are looking at the opening up of the market, the privatization program and the change in the overall market infrastructure as an opportunity," and the regulator has seen "a tremendously increasing amount of interest" from foreign firms seeking licensing to operate in Saudi Arabia, El-Kuwaiz said at the launch of a secondary market called Nomu.
The Gulf's biggest stock exchange is seeking to attract more capital from abroad as Saudi Arabia goes through unprecedented economic and social change. Foreign investment is a cornerstone of Deputy Crown Prince Mohammed bin Salman's "Saudi Vision 2030," a blueprint for the post-oil period that includes plans to sell shares in state oil giant Saudi Aramco and expand its sovereign wealth fund into the world's largest.
The Saudi stock market started allowing limited foreign direct investment in 2015 and eased restrictions further last year. Foreigners currently own about 4 percent of shares.
Draft regulations for the settlement shift received encouraging feedback from most global index providers, including MSCI Inc., El-Kuwaiz said, adding that the shift may come "ahead of schedule." The kingdom is seeking to join MSCI's emerging market index, which is tracked by some of the world's biggest fund managers.
'Missing Piece'
"T+2 is the last missing piece of the puzzle for MSCI to move forward on" possibly including Saudi Arabia on its emerging-market watchlist, Wafic Nsouli, the managing director and head of equities at Dubai-based investment bank Arqaam Capital Ltd., said by e-mail on Sunday. This is "a game changer for the country and the wider region and one we expect as soon as this May," he said.
"Investor feedback from the clients we speak to has very much supported the view that once the settlement cycle comes in line with international best practices, they will be far happier to proceed with QFI," he said.
The following are highlights from Bloomberg's interview with El-Kuwaiz:
Foreign investors will have the same access to the Parallel Market Index as they do to the main market. Nomu gained as much as 18 percent in debut trading.
Officials are targeting 30 to 35 companies within a year of Nomu's start, from seven companies as of Sunday. "We may actually exceed that level given the amount of interest that we've seen," he said. 
Companies from the Gulf Cooperation Council will be allowed to list in the parallel market as a primary or secondary listing.
— With assistance by Dana El Baltaji, Matthew Martin, and Hussein Slim
Before it's here, it's on the Bloomberg Terminal.
LEARN MORE