Trump's Budget Won't Touch Entitlement Programs, Mnuchin Says
By
Treasury secretary says the focus is on tax cuts for growth

Administration wants CFPB funded through appropriations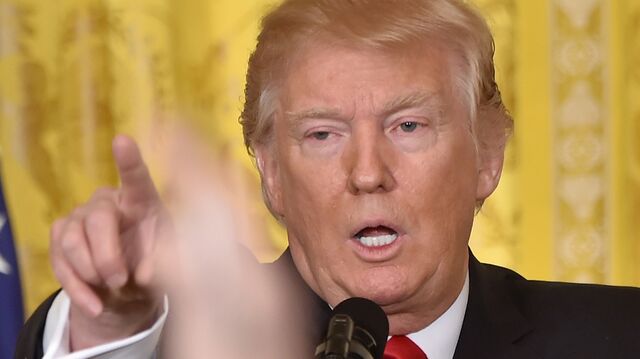 Treasury Secretary Steven Mnuchin said President Donald Trump's upcoming budget won't touch entitlement programs such as Social Security or Medicare, and will instead focus on ways to produce long-term economic growth by slashing taxes.
"We are not touching those now," Mnuchin said of entitlements in an interview taped Friday and broadcast Sunday on Fox News Channel. "So don't expect to see that as part of this budget, OK. We are very focused on other aspects and that's what's very important to us."
Mnuchin said that the administration thinks tax cuts and regulatory relief will lead to a sharp increase in economic growth of 3 percent or higher. "We're going to make sure this works," he said. "This is all about creating growth."
The White House is expected to send the outlines of a fiscal 2018 budget to Capitol Hill as early as March 13, congressional aides have said. White House Press Secretary Sean Spicer has confirmed the budget outline would come around that date.
Mnuchin, 54, said the president will touch on tax reform during his address to a joint session of Congress on Tuesday night, and that the administration aims to complete it by August while it also works on repealing and replacing the Affordable Care Act, or Obamacare.
"We need some more time to get tax reform done," Mnuchin said. "And we're doing it under lightning-fast proposals. "
For a QuickTake on Trumponomics, click here.
The new Treasury secretary's comments double down on earlier statements from the Trump administration that policies such as regulatory relief and tax cuts can more than pay for themselves by leading to an increase in economic growth.
"If we make business taxes more competitive, people will do more business here and we'll get more revenues," he said. "So although there may be an absolute lower rate, that doesn't necessarily mean it's a corresponding drop in revenues."
Many economists have said that such promises are overly optimistic since America's aging workforce and other factors make it more difficult to boost economic growth. The U.S. economy last year grew by 1.6 percent, and the White House has said that its policies can bring annual economic growth to 4 percent.
In the Fox interview, Mnuchin also addressed various tax proposals designed to increase the competitiveness of U.S. exports and reduce the trade deficit.
Export Competitiveness
One proposal, a border-adjustment tax, would increase levies on imports to the U.S. Critics have said the higher import costs would be passed on to consumers in the form of higher prices, potentially stoking inflation.
Mnuchin said the Trump administration hasn't settled on whether to support it.
"There are certain aspects that the president likes about the concept of a border-adjusted tax, there are certain aspects that he's very concerned about," Mnuchin said.
The administration is exploring what it calls a "reciprocal tax" to ensure imports are treated the same way as U.S. exports while avoiding trade wars.
Mnuchin also said the Trump administration is looking at a proposal from Representative Jeb Hensarling, Republican of Texas, to eliminate the Consumer Financial Protection Bureau's authority to supervise financial firms.
The administration is "absolutely on board with" changing CFPB's current funding process through the Federal Reserve to one of Congressional appropriations, Mnuchin said. Such a move would give Congress more control over the agency, which was formed in 2011 as part of the Dodd-Frank Wall Street reforms enacted after the 2007-08 financial crisis.
Before it's here, it's on the Bloomberg Terminal.
LEARN MORE