Deutsche Bank Cuts Bonus Pool Almost 80% on Legal Costs
By and
Bank's bonus pool cut went further than expected, analyst says

Executive hopes to conclude most large legal cases this year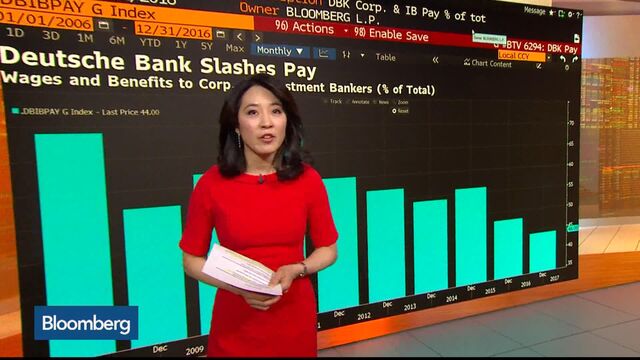 Deutsche Bank AG cut its 2016 bonus pool by almost 80 percent, a figure unmatched in the bank's recent history as it tries to recover from legal expenses that wiped out profit and eroded capital levels.
The lender is reducing payouts with an eye toward shareholders and is aware it will be "frustrating" for employees, Chief Administrative Officer Karl von Rohr told Frankfurter Allgemeine Sonntagszeitung in an interview. The measures will affect about a quarter of the 100,000 staff, the German Sunday newspaper cited him as saying. The comments were accurately reported, a Deutsche Bank spokesman told Bloomberg on Monday in Frankfurt.
Though Deutsche Bank told staff last month that it was scaling back bonuses, the full magnitude of the cuts hadn't been reported. The firm, which operates Europe's biggest investment bank, saw its shares sink 23 percent last year amid rising misconduct costs and concerns about its financial strength. In an effort to bolster profitability and build its capital buffer, Chief Executive Officer John Cryan has eliminated jobs, suspended dividends and sold risky assets.
Philipp Haessler, an analyst at Equinet Bank AG in Frankfurt, said the reduction of almost 80 percent is more than he anticipated. Deutsche Bank's wider compensation expenses fell 11 percent to 11.9 billion euros ($12.6 billion) last year from a year earlier, company filings show.
"Investors will be happy to see that costs go down, but the question is, will the best people want to leave or are there no jobs out there for them?" said Haessler, who has a buy recommendation on the shares. "It'd be great if this helped keep personnel costs lower, but I'm skeptical on that given Deutsche Bank's track record."
Special 'Incentive'
Some workers in key positions -- about 5,000 in all -- will get a special, long-term incentive tied to the bank's performance that will paid out after as many as six years, von Rohr said.
Cryan told reporters this month that those awards were for "relatively few" people in revenue-earning areas, but also in "critical infrastructure functions and control functions where we are focusing a lot of our investment to improve the bank."
The bank hopes to "resume normal service for the business year 2017" with regard to bonuses, Cryan said.
The lender last year cut its bonus pool 17 percent, arguing at the time that deeper reductions would compromise its ability to retain top talent. The cuts to the 2016 bonus outpace those of competitors. Royal Bank of Scotland Group Plc trimmed its bonus pool by 8 percent, while Barclays Plc cut awards for "front-office" staff by about 1 percent.
Staff Intact
Deutsche Bank hasn't lost more staff than usual as a result and employee fluctuation actually fell in January from a year earlier, according to von Rohr. The company has "no difficulty attracting the best people," the newspaper cited him as saying.
The bank has faced more than $14.5 billion in fines and legal settlements since the start of 2008, more than any other European lender, calculations by Bloomberg show. The largest expense was a $3.1 billion civil penalty Deutsche Bank agreed to pay in a settlement with the U.S. Justice Department in January over pre-crisis mortgage bond sales. The total doesn't include consumer relief payments.
Von Rohr said that Deutsche Bank hopes to conclude most of its biggest remaining legal cases by the end of the year.
Before it's here, it's on the Bloomberg Terminal.
LEARN MORE