Yuan Seen Benefiting as Mnuchin Comments Lower Risk of Trade War
Bloomberg News
Trump is unlikely to wage a broad trade conflict: RBS' Hu

Room for yuan depreciation is shrinking, CICC economists say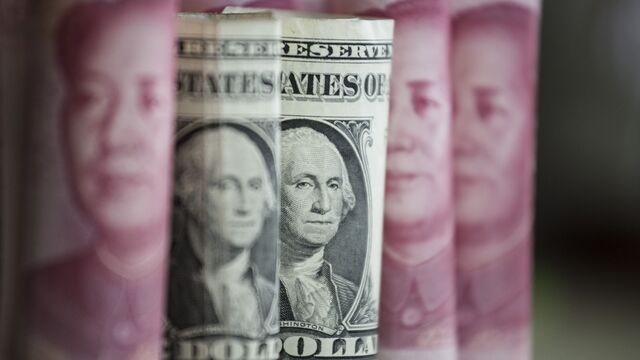 U.S. Treasury Secretary Steven Mnuchin's comments on whether to brand China a currency manipulator signal reduced chances of a trade war and are positive for the yuan, according to Royal Bank of Scotland Group Plc.
The two nations will seek to limit any conflict to a controllable level, said Harrison Hu, chief greater China economist at RBS in Singapore. The onshore yuan was little changed at 6.8730 per dollar as of 5:27 pm. in Shanghai, while the spot rate in Hong Kong retreated 0.1 percent.
Mnuchin signaled no urgency to designate China a currency manipulator, saying in an interview Thursday that he wants to use a regular review of foreign-exchange markets to determine if the U.S.'s largest trading partner is cheating. His comments came even as President Donald Trump, in an interview to Reuters, described China as a "grand champion" at manipulation.
"Mnuchin's comments have significantly eased concerns on the black swan event of U.S. naming China a currency manipulator," said RBS' Hu. "Trump won't likely wage a broad trade war that would lead to turmoil in the financial markets" although the U.S. may still roll out protectionist polices on China, such as by raising tariffs for specific products, he added.

The perception that Trump is softening his rhetoric toward China has helped the nation's assets this year. The yuan has rallied 1 percent in 2017 amid a broad dollar decline, while Hong Kong's benchmark equity index is among the world's top performers with an 8.9 percent advance as China's economy stabilized.
Mnuchin's comments means the odds of China being labeled a currency manipulator have declined, and the room for further depreciation in the yuan is shrinking, China International Capital Corp. economists Yu Xiangrong and Liang Hong wrote in a note Friday.
"It was another affirmation that the U.S.' stance has softened," said Christy Tan, head of markets strategy in Hong Kong at National Australia Bank. "The impact on markets will be along the line of risk appetite extending for assets and currencies, such as the Korean won, the Taiwan and Singapore dollars and the yuan, with the soft dollar as the main backdrop."