Trump Tug of War Pits Stock Bulls Against Utility Investors
By
Sentiment on utility stocks pushed to opposing extremes

Bid for yield-cushion arrives in richly-valued market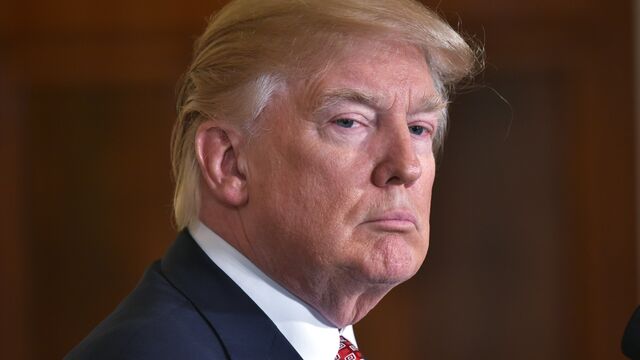 There's a fight underway for the heart of the defensive trade: utility stocks.
In one corner, optimism is seeping through the options market as power companies head toward their longest stretch of gains in eight months. In the other are exchange-traded fund investors who are yanking assets and driving up bearish bets.
The sector, which is usually less sensitive to gyrations in the domestic economy, is typically viewed as a defensive trade and a proxy for bonds because of its high yield. As such, power companies have been unloved for much of 2017. Signs of economic improvement and expectations of fiscal stimulus under President Donald Trump have pushed investors toward inflation plays like financial stocks at the expense of utilities.
But investors may be seeing signals of stalled inflation expectations as hope fades for a tax cut or infrastructure boost anytime soon. As global yields decline, utility stocks in the S&P 500 are headed toward the fourth-straight week of gains, the longest winning streak since last June.

Meanwhile, traders are the most bullish on power companies since June 2015, judging by the low price of puts versus calls. It's mirrored a drop in the premium traders are willing to pay to protect against losses in long-term bonds, implying a cap on further upside for yields. Rising yields have generally spelled doom for utility valuations.

Still, not all investors buy that narrative because ETF traders continue to discount Federal Reserve rate hikes and accelerating inflation, both of which would hammer bond proxies like utilities.
In the five days through Wednesday, short interest on the Utilities Select Sector SPDR Fund posted the biggest gains since right after the election, data from IHS Markit Ltd. show. Now short interest sits less than one percentage point below an eight-year high.

While at the same time, investors pulled $530 million last week from the ETF, the biggest weekly outflows for the fund since June 2015.

The opposing camps will remain at odds until we get more clarity from the Trump administration on its tax plan and fiscal policy, said Ernie Cecilia, chief investment officer at Bryn Mawr Trust in Bryn Mawr, Pennsylvania. Until then, traders will continue to splinter into two groups, he said.
"From a long-term horizon, there will be headwinds in the bond-proxy market because the Fed has started to raise rates and the economy is growing," Cecilia said. "From the short-term view, maybe they were oversold and this is a good place to put money into given that the other sectors have run up."