May's Tories Score Historic U.K. Election Win Over Labour
By and
First governing-party gain in special election for 35 years

Corbyn critics warn of crushing defeat for Labour in 2020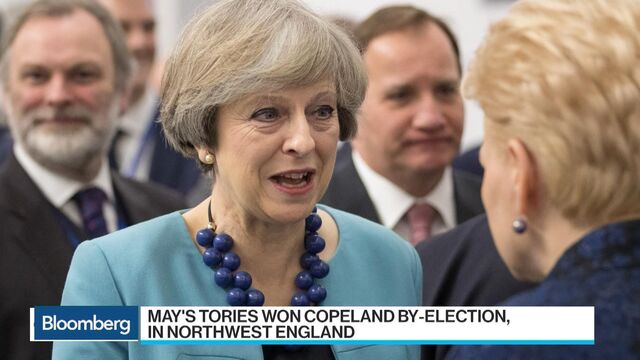 U.K. Prime Minister Theresa May demonstrated her dominance of Britain's political landscape in a by-election that saw her Conservative Party score a historic win from its main rival, Labour.
The Tories took the seat of Copeland, in northwest England, with 44 percent of the vote. May's Conservatives won the district for the first time since its creation in 1983 -- an achievement all the more remarkable because it's exceptionally rare for British governing parties to gain seats in special elections.  

While May will be happy to take credit for the success, Labour leader Jeremy Corbyn immediately faced criticism from his own party, with warnings that he's leading it toward a "catastrophic" defeat at the general election scheduled for 2020. His critics saw little comfort in another election Thursday, in Stoke-on-Trent Central, where Labour overcame a challenge from the pro-Brexit U.K. Independence Party to hold the seat.
The result in Copeland "is a disaster for us -- we shouldn't try to insult people's intelligence by suggesting it's anything other than that," John Woodcock, Labour lawmaker for the neighboring district, said in a BBC Radio interview on Friday. "We are in trouble as a party at a time when the country really needs an effective opposition and they need an alternative to the very damaging approach the Conservative government is taking on leaving the European Union."
'Truly Historic'
The last prime minister to make a special election gain, as May did in Copeland, was Margaret Thatcher in 1982. But that Tory win in south London followed a Labour split and the defection of the sitting lawmaker. Matt Singh, of the NumberCruncherPolitics blog, said historians had to go back to 1878 to find a comparable upset.
"What has happened here tonight is a truly historic event," said the victorious Conservative candidate Trudy Harrison after the result was announced. Patrick McLoughlin, Tory chairman, described the win as "amazing."
The Copeland result strengthen's May's hand at a critical time, as she prepares to trigger the start of Brexit negotiations in the next five weeks. She can now make the case for the kind of clean break with the EU she is seeking, secure in the knowledge that Labour poses no realistic threat to her grip on power and with an increased majority in the House of Commons for critical votes in the coming weeks.
May's supremacy will also be clear to her EU counterparts as the talks begin, disappointing those who hoped for a softer alternative to her vision of Brexit.
'Catastrophic Defeat'
Corbyn won the Labour leadership with a landslide in 2015, and then easily fought off a leadership challenge last year. His lawmakers may be reluctant to challenge him again unless they're sure that the minds of ordinary party members have changed.
Woodcock warned against another "counter-productive" attempt to oust Corbyn, saying the leader could only change if he volunteers to quit. "We are not on course to victory -- we are actually on course to an historic and catastrophic defeat," he said.
Corbyn hailed the victory in Stoke but conceded Labour's message had failed to win over voters in Copeland. He told an audience of socialist activists from across Europe Friday that he does not see his leadership as the problem and will not be quitting.
Not Enough
"Our message wasn't enough to win through in Copeland" and "I'm disappointed, I'm very sad about it," he said at the event in central London. "We must do all we can to protect this country from the dangers of a brutal Tory Brexit."
His closest ally, shadow chancellor of the exchequer, John McDonnell, appealed to critics not to launch a fresh bid to remove Corbyn. "I don't think this is about individuals," he told BBC Radio 4. "There's mixed views on Jeremy" because he's a "different type of leader" who is decent, honest and not "macho," McDonnell said. "We've got to get to the real grassroots of our movement."
Labour earlier in the night held its seat in Stoke, fending off UKIP, which fielded its new leader, Paul Nuttall. UKIP had hoped to do well in a seat that voted strongly to leave the EU, and to exploit Corbyn's weakness to show that it was a serious threat to Labour in its working-class heartlands. 
In that election Labour's Gareth Snell won with 37 percent of the vote, down slightly from the 2015 general election. Nuttall was second, with 25 percent, barely ahead of the Conservatives' 24 percent.
That the votes were called at all was a blow to Corbyn. Both were the result of the sitting member of Parliament deciding to take up a job outside politics, not something that often happens in parties when they are seen as headed for power.
But despite the disastrous result for Corbyn, and a campaign in which Nuttall struggled to cope with the spotlight, both party leaders may hang on. UKIP is already on its third leader in six months, and unless the former incumbent Nigel Farage can be persuaded to give up his broadcasting career and return, there is no obvious successor.