Euro Set for Third Weekly Decline; Further Losses Seen Limited
By
ABN Amro lifts euro forecast, says dollar rally has peaked

UBS Asset takes 'overweight' position in euro versus dollar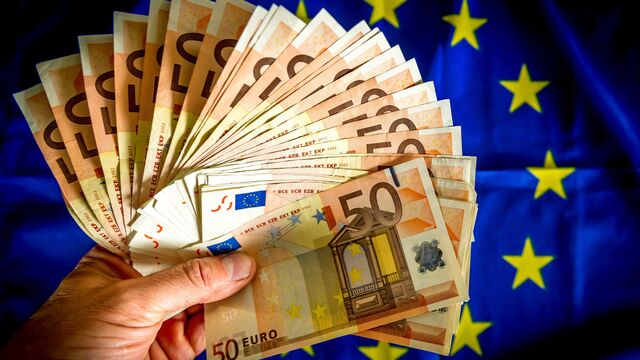 The euro was on course for a third straight week of losses versus the dollar amid political uncertainties centered on France but some analysts and investors see limited further downside.
ABN Amro has revised up its euro forecasts while UBS Asset Management is overweight the single currency versus the dollar. The euro fell to a six-week low against the dollar this week amid heightened investor worries that France's far-right presidential candidate Marine Le Pen was gaining traction in the polls. Le Pen, who wants to take her country out of the euro, is seen winning the first round of voting but will likely lose the second, polls signaled.

The single currency is likely to find some stability from here against the greenback, according to Georgette Boele, a currency strategist at ABN Amro Bank NV in Amsterdam.
"The euro has been under pressure because of the political headlines," she said. "But I think that the euro has been pretty resilient especially versus the dollar. With all the political headlines, I would've expected it even lower."
The dollar's rally had peaked, Boele said, which means it is unlikely the euro would weaken as much as she had previously predicted. ABN Amro have lifted their 2Q EUR/USD forecast to 1.05 from their earlier call of 0.95

"At the moment the dollar is not profiting much from stronger U.S. data and hawkish Fed comments, which signals that market is already overly optimistic and investors are already positioned for dollar strength," Boele said

A gauge of the dollar headed for a weekly decline as uncertainty over President Donald Trump's policies persisted and after Treasury Secretary Steven Mnuchin said on Thursday the impact of fiscal stimulus this year on the economy may be limited
"We are overweight the euro versus the U.S. dollar," Mark Haefele, global chief investment officer at UBS Wealth Management, writes in a client note

"At 1.06 versus the U.S. dollar, the euro is undervalued. Our estimate for the purchasing power parity of EUR-USD is 1.24. The magnitude of the euro's undervaluation suggests that markets are underestimating the sustainability of the euro zone's recovery"
"Even if the Fed hikes rates more than twice this year due to stronger growth and inflation, putting downward pressure on EUR-USD, our overweight U.S. equity position would likely get an additional boost," Haefele writes

EUR/USD climbs 0.1% to 1.0594; on track for a 0.2% fall on the week, extending the 1.5% drop in the previous two weeks

The pair tests 55-DMA resistance at 1.0594 a second day with resistance at 1.0602-05, Feb. 20 low, 21 high and 1.0635, Feb. 20 high. Support was at 1.0538, Feb. 23 low and 1.0494, Feb. 22 low

For more major technical levels: click here
Before it's here, it's on the Bloomberg Terminal.
LEARN MORE