China Said to Name Reformer Guo as Head of Banking Regulator
Bloomberg News
Guo held other financial-sector roles, including CSRC chairman

Challenges include shadow banking, soured loans at China banks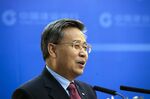 China has appointed financial-sector expert Guo Shuqing as the new head of the nation's banking regulator, according to people familiar with the matter.
Guo is replacing Shang Fulin, who is retiring, said the people, asking not to be identified as the matter is private. Guo's appointment as chairman and party secretary of the China Banking Regulatory Commission was announced internally to CBRC staff on Friday, said the people.
The CBRC press office didn't immediately reply to a faxed request for comment.
Guo, 60, was appointed governor of Shandong province in eastern China in 2013. He has spent much of his life working on the transformation of the country's financial system, including in his former role as chairman of the China Securities Regulatory Commission. Other previous assignments included chairman of China Construction Bank Corp., the nation's second-largest lender, and head of the State Administration of Foreign Exchange.
Guo's previous regulatory experience, as well as his work managing a large bank and a regional economy, make him a good choice for the CBRC role, said Liu Shengjun, a Shanghai-based economist at China Europe International Business School.
New Measures
Guo's appointment comes as the CBRC, together with the central bank, and the securities and insurance regulators, work together to beat back growing risks from China's massive shadow-banking sector. The regulators are drawing up new measures to curb the nation's $8.7 trillion of asset-management products, which include investments in bonds and risky off-balance-sheet lending by banks. So-called wealth-management products issued by banks surged 30 percent to 26 trillion yuan ($3.8 trillion) last year.
China's banks -- with total assets of $34 trillion -- are also grappling with rising soured credit and slower profit growth. The nation is home to four of the world's 10 largest banks by assets: Industrial & Commercial Bank of China Ltd., Construction Bank, Agricultural Bank of China Ltd. and Bank of China Ltd.

Guo burnished his reputation as a reformer as head of the foreign exchange regulator between 2001-2005, according to a former colleague. In 2005, he was appointed head of Construction Bank at a time when the Beijing-based lender was preparing for an initial public offering. As securities regulator, Guo was closely involved in efforts to reform and develop China's bond markets.
In 1984, while studying Marxist Leninist theory at the Chinese Academy of Social Sciences, Guo penned an article entitled "Investigations on Reforming the Chinese Economy," which advocated market reforms. He subsequently sent the article unsolicited to the State Council's committee on economic reform hoping they could learn from it, according to an introduction he wrote for a collection of essays published in 2008.
The Wall Street Journal reported on Thursday that Guo was a leading candidate to head the CBRC, replacing Shang.
— With assistance by Jun Luo, Dingmin Zhang, and Heng Xie
Before it's here, it's on the Bloomberg Terminal.
LEARN MORE