Caisse Says Party Is Over for Bonds, Plans Shift to Credit
By
Pension fund's 7.6% gain led by Canadian stocks, real estate

Quebec money manager posts 10% return over five years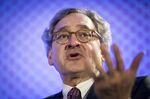 Caisse de Depot et Placement du Quebec, Canada's second-largest pension fund manager, is reducing its bond holdings and devoting more resources to corporate credit and real estate debt.
"The party is over, that's why we are going to restructure this portfolio to lower investment in traditional bonds and increase and diversify our investment in credit," Chief Executive Officer Michael Sabia said in Montreal Friday.
He said the Caisse will reduce the amount of fixed income in its portfolio and increase over the next few years the share of less liquid assets. The fixed-income portfolio will be broken into two portions: traditional fixed income -- federal and provincial Canadian bonds -- which will become "significantly smaller," and another section based on credit, such as corporate credit and real estate debt, he said.
"We're going to put more priority on building that portfolio because we think that can offer us still a relatively low level of risk but somewhat higher returns," he said of the credit-focused plan. Investment in Canadian provincial and federal bonds will shrink "not dramatically, but bit by bit," he said.
Real Estate
Other large asset managers have been shifting funds from traditional fixed income to private credit and real assets, including Brookfield Asset Management Inc., which raised $30 billion for private strategies in its latest fundraising round. Canada Pension Plan Investment Board saw its assets under management decline in the most recent quarter as its fixed income portfolio, making up more than 20 percent of assets, was hit by the bond rout and stronger Canadian dollar. Onex Corp.'s credit investing arm increased its assets under management by $1.1 billion to $7.5 billion in the fourth quarter.
The share of less-liquid assets, which comprise real-estate, infrastructure and private equity, will be raised to as much as 30 percent to 35 percent in the next four to five years, from about 28 percent, according to Sabia. The net investment result in real estate alone was C$3 billion  ($2.3 billion) last year, more than the C$2.3 billion obtained by the whole fixed-income portfolio, which has almost three times has much in assets.
Sabia spoke to reporters after posting the fund's results for 2016. The pension manager returned 7.6 percent on its investments last year, helped by gains in Canadian stocks and real estate.
Net investment income was C$18.4 billion, down from C$20.1 billion a year earlier, the Montreal-based fund manager said Friday in a statement. Net assets rose to C$270.7 billion as of Dec. 31, from C$248 billion at the end of 2015.
Wonderland Approach
Sabia said he's following a strategy of geographic and asset diversification to find stability at a time of unprecedented geopolitical and trade risks that could hurt global growth further. Investors who have been bullish following the election of President Donald Trump in the U.S. don't seem to have taken these into account, according to Sabia.
Markets have taken an "Alice in wonderland" approach, he said. "They've taken what they like, deregulation, animal spirits, tax cuts, infrastructure spending and they haven't, in our view, priced in geopolitical risks, the question mark around protectionism."
The results beat the 6.8 percent average increase of Canadian pension funds, as calculated by RBC Investor & Treasury Services, as well as the fund's own benchmark of 5.8 percent last year. Over five years, the Caisse said its weighted average annual return was 10.2 percent -- topping the 9.1 percent return of its benchmark.
The Caisse oversees pensions for retirees in the French-speaking province of
Quebec, with a dual mandate to maximize returns and foster economic growth in the province. Canada Pension Plan Investment Board is the country's largest manager of public pension funds, with almost C$300 billion in assets.
Before it's here, it's on the Bloomberg Terminal.
LEARN MORE