Billionaire Adelson Reaps Benefits From Big Republican Donations
By
Republican Jewish Coalition will hear from Pence Friday night

Casino owner was top 2016 campaign donor to Republican causes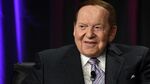 Investing in politics is finally paying off for billionaire casino owner Sheldon Adelson.
The dividends will be displayed this weekend as some of the nation's top fundraisers assemble at his Venetian hotel in Las Vegas for the annual meeting of his signature political organization, the Republican Jewish Coalition. Among those paying their respects will be Vice President Mike Pence and Ronna Romney McDaniel, the new Republican National Committee leader.
While Adelson often attracts big-name conservatives, the RJC and its mega-donor benefactor have rarely enjoyed such a strong political position as now. He had a private dinner at the White House earlier this month, just days before a visit from Israeli Prime Minister Benjamin Netanyahu where President Donald Trump announced an abandonment of a decades-old U.S. position supporting separate states for Israel and Palestinians.
With Jews deeply divided about Trump -- he was criticized for being slow to condemn recent threats against Jewish community centers that have raised antisemitism concerns -- the RJC provides the White House at least one steadfastly supportive national Jewish group.
"He has gone much farther in his comments and in articulating his views in terms of the strength of his pro-Israel message than any president I can remember recently," said Matt Brooks, the RJC's executive director. "That is very well received."
Elite Fundraisers
The three-day gathering, expected to attract about 600 people, will start the RJC's planning for a 2018 midterm election that will mark Trump's first electoral test as president. Former Vice President Dick Cheney, Senator Lindsey Graham of South Carolina, Senator Cory Gardner of Colorado and Senator Joni Ernst of Iowa are among the other speakers.
The RJC provides an elite network of fundraisers who help Republicans up and down the ballot -- especially in states with larger Jewish populations -- while also lobbying Republican lawmakers and administration officials for pro-Israel policies. Adelson, 83, isn't entirely responsible for the influence enjoyed by the RJC, whose board of directors is a who's who list of top Republican fundraisers. Lew Eisenberg, the top RNC fundraiser in 2016, is just one such example.
The group is now running digital ads promoting David Friedman, the president's pick for U.S. ambassador to Israel. The advertising is running nationally and in specific states to put pressure on Democratic senators Chuck Schumer of New York, Dick Durbin of Illinois, Tim Kaine of Virginia, Cory Booker of New Jersey, Chris Murphy of Connecticut, Chris Coons of Delaware and Bill Nelson of Florida.
Pence, who is scheduled to address the gathering Friday evening, is expected to assure RJC members that there's no distance between the administration and the group's goals. Trump, meanwhile, has softened some of his campaign pledges to conservative Jews, such as moving the U.S. embassy in Israel from Tel Aviv to Jerusalem.
"Pence is probably the best person in the administration in terms of a combination of seniority and the way that Republican Jews see him," said Tevi Troy, a policy adviser and Jewish liaison for President George W. Bush's White House. "There is still discomfort within the Republican Jewish ranks about Trump."
Dachau Visit
The vice president's activities ahead of his RJC speech, which included a meeting with Netanyahu, a tour of the Dachau concentration camp in Germany and a visit to a suburban St. Louis Jewish cemetery damaged by vandals, have boosted his standing with the group. Brooks called Pence "one of the most pro-Israel members of Congress" during his tenure in the U.S. House, while dismissing a question on whether he might be more popular than the president with RJC members.
Trump was widely criticized by Jewish groups -- even mildly by the RJC -- when the White House late last month released a statement marking International Holocaust Remembrance Day that failed to mention Jewish victims. Aides stood by the statement by saying it was meant to be an "inclusive" message not intended to marginalize Jewish victims.
While the RJC has backed Trump ever since he secured his party's nomination last year -- even if a bit less robustly than for past Republicans -- the courtship wasn't always smooth.
"I had one conversation with Sheldon and all he wants to do is protect Israel," Trump told MSNBC in November 2015. "But I don't want his money. I don't need his money."
Adelson and his wife, Miriam, contributed at least $82.5 million to conservative causes during the 2016 election cycle, ranking first among Republicans, according to the Center for Responsive Politics. Four years earlier, they'd given at least $93 million.
Adelson, who is listed by the Bloomberg Billionaires Index as the 15th richest U.S. resident with an estimated fortune of $27.6 billion, didn't respond to an interview request made through RJC spokesman Fred Brown.
Midterm Targets
Brooks said the group is already lining up against some Democratic incumbents for the 2018 midterm elections, including Senator Sherrod Brown of Ohio. The group is also looking at races in Florida and Indiana, he said.
As the RJC meets in Las Vegas, the liberal Jewish group J Street will convene in Washington for its annual meeting. That gathering will hear from two Democrats unsuccessful in 2016 national campaigns, Senator Bernie Sanders of Vermont and Kaine, who was Hillary Clinton's running mate.
American Jews traditionally back Democrats by large margins in presidential elections, although the RJC argues it has helped increase support for Republican candidates.
Trump received just 23 percent of the Jewish vote nationally, according to exit polls, down from the 30 percent that Romney received in 2012. Still, Trump's proportion was larger than what Senator John McCain received in the 2008 presidential election and it was also slightly higher than the share secured by Bush in 2000.
"We have been chipping away and solidifying a significant chunk of the Jewish vote," Brooks said. "We've been putting millions and millions of dollars into that effort and it's paying significant dividends."
— With assistance by Jonathan Ferziger
Before it's here, it's on the Bloomberg Terminal.
LEARN MORE