business
Bank of Ireland Holds Off Dividend Payout for Another Year
By
Pension volatility contributes to decision not to pay dividend

Dividend payment would be sign of full recovery from crisis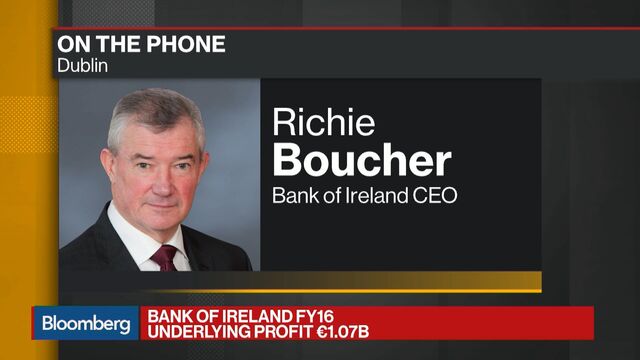 Bank of Ireland Plc will hold off paying its first dividend since the financial crisis until next year, as the lender manages a pension deficit and boosts its capital levels.
Bank of Ireland, based in Dublin, said underlying profit for 2016 dropped to 1.07 billion euros ($1.13 billion) from 1.2 billion euros a year earlier.
Four out of five analysts surveyed by Bloomberg News before the earnings announcement expected Bank of Ireland to pay a dividend for 2016, a move that would have signaled one of the final steps in the lender's return to normal operations after the financial crisis. The board is "very focused" on starting a dividend, Bank of Ireland said, adding a first payment is expected next year.
"Our aim is to have a sustainable dividend," the bank said. "We expect dividend payments to recommence at a modest level, prudently and progressively building, over time, towards a payout ratio of around 50 percent of sustainable earnings."
Bank of Ireland's shares dropped as much as 2.2 percent in Dublin, giving the company a market value of 7.4 billion euros.

The decision to defer the dividend payment highlights the bank's "cautious" approach in light of Brexit concerns and the sustainability in the recovery of its pension deficit, analysts at securities firm Davy said.
Bank of Ireland's fully loaded CET1 ratio rose to 12.3 percent, while its net interest margin for the year was unchanged at 2.19 percent from 2015.
The company's pension deficit narrowed to about 450 million euros from about 740 million euros a year ago as bond yields increased. The deficit had widened to 1.2 billion euros at the end of June.
Volatility in the firm's pension deficit impacted the decision not to pay a dividend this year, Chief Executive Officer Richie Boucher said in a phone interview.
(
Adds shares in fifth paragraph, analysts' comment in sixth.
)
Before it's here, it's on the Bloomberg Terminal.
LEARN MORE