business
Descartes Thinks About Whether to Support the Le Pen Revolution
A sleepy French town asks how far the National Front leader can go this time.
By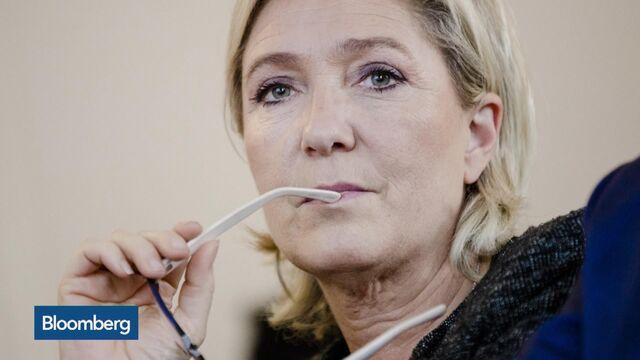 In the small French town named after 17th-century philosopher Rene Descartes, Carole Tremblais is contemplating the best way to protest.
Sickened by corruption and broken promises, far-right leader Marine Le Pen might be the best bet for her declining town, she said. The way people think in Descartes offers clues on how far Le Pen's anti-immigration, anti-establishment message resonates as she bids for the presidency and another shock to Europe's political system.

"Voting for Le Pen in the first round might be a good way of giving the system a slap in the face," Tremblais, a mother of two who works in a bakery, said at the bar-brasserie La Chope on the main square. "The politicians in power have no idea what living on the minimum wage is like. Immigrants are treated better than the French are."

Le Pen's National Front narrowly lost in 2015's regional vote in Descartes and this time the desire to rebel might prove more irresistible. Like with Donald Trump in the U.S. and Britain's vote to leave the European Union, the question is whether Le Pen can milk the disillusionment over the economy and immigration to triumph.
The 48-year-old is leading the polls nationally for the first round of voting in April, though none suggest she would prevail in the run-off two weeks later against either former Prime Minister Francois Fillon, 62, or independent Emmanuel Macron, 39. It's also unknown how an investigation into the use of European funds might play, with Le Pen this week refusing to be interviewed by police before the vote. 
That two-round system allows a protest vote and then weeds out more extreme candidates before they reach power. It happened in Descartes in 2015, but after Trump and Brexit, pollsters can't be sure it will happen this time. 
Tremblais doesn't know how she will vote in the second round; perhaps she will leave the ballot blank. She's been tempted by Fillon, the Republican candidate, but with a scandal over hiring his wife and children as parliamentary aides, she now thinks "he's just as bad as all the others: jobs for the boys."


Across the square from the bar, a bronze statue of Descartes, a philosopher, mathematician and soldier, stands outside the town hall. Inside, Republican mayor Jacques Barbier complained that the Fillon scandal has made party members refuse to campaign. He predicted that "although people won't admit it," Le Pen will score highly in the town -- at least at first.
"You'll see, Le Pen will come out top with 35-36 percent of the vote in the first round," said Barbier, a former architect and company executive. "People are exasperated with politics in general, but it's just an alarm bell, they don't want her to win because she's too extreme for them."
It's not a done deal, though. Fillon would beat Le Pen, said Barbier. "But if it's Le Pen against Macron, I've no idea who will be president."


Descartes, a three-hour drive south of Paris, has been here before. In the 2015 regional elections, the National Front led the first round with 31.7 percent before the score slipped back to 30.8 percent. The winner, the Socialist-led coalition, got 34.8 percent.
Mainstream parties are paying the price of decline. 
Like so many French towns, Descartes looks idyllic with pretty whitewashed houses, some half-timbered, a park with a rose garden by the Creuse river, and a sports complex with swimming pools, a velodrome and an area for playing boules.
But such facilities were paid for by taxes on local industry, and several firms have shrunk, closed down or left including makers of asbestos products and of industrial buildings. The population has fallen from more than 4,000 in the late 1990s to 3,600, and a third of locals are over 60.
Not even the fame of one of the founders of modern philosophy helps: the museum in the house where he was born in 1596 struggles to lure visitors, despite offering monthly "philosophy cafe" debates. The only hotel in town has closed down.

On Descartes Street, shopkeepers are confused, disillusioned, and often angry. Jeweler David Szymozyk, 46, wants Fillon "because he's the one who wants to make the deepest changes." His wife Virginie, 45, may vote Macron "because he's new, he's not part of the system," but she's waiting for his program.
Jean Claude, 55, an upholsterer, has always voted for the center-right. For the first time, though, he will stay away from the ballot box. "How can Fillon ask people to tighten their belts when he filled his pockets?" Claude asked. 
Descartes may have based his philosophy on doubt, but back at the bar La Chope at aperitif time, no uncertainty troubled Remy, 24, a machine-tools sales representative with slicked-back hair.
For many older people in Descartes, voting for Le Pen carries a stigma because they are still uneasy about her father Jean-Marie, who described Nazi gas chambers as "a detail" of World War II history. Remy has moved on.
"Jean-Marie talked rubbish about the Jews, but that's old, Marine is different," he said, one of few locals to declare his intention to vote for Le Pen, albeit declining to give his surname. "I like that she puts jobs for the French first, and that she wants protectionism. I see the need for that in my job."
Before it's here, it's on the Bloomberg Terminal.
LEARN MORE